How a power misting sanitizer can kill pathogens wherever they hide
Disinfect ambulances and other areas quickly and safely with a premixed formula that is effective in a variety of environments
---
Sponsored by Biomist
By EMS1 BrandFocus Staff
Sanitizing ambulances between patients is more important now than ever. Pathogens such as E. coli, MRSA and SARS-CoV-2 (the virus that causes COVID-19 disease), can be spread via direct contact with contaminated surfaces.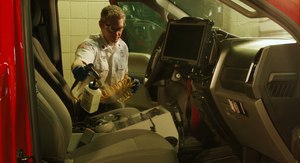 High-touch surfaces like stretchers, medical equipment control panels and door handles should be cleaned and disinfected frequently to minimize the risk of infection and exposure, both to patients and to EMS providers.
But many disinfection procedures are time-consuming and labor intensive, reducing the time your ambulances can be in service. In addition, many of the formulas traditionally used for disinfection can create hazardous fumes or damage sensitive equipment. But with the right tools, you can disinfect your ambulance compartments and equipment quickly, effectively and safely.
A SAFE, EFFECTIVE ALTERNATIVE
Formula D2 from Biomist is a ready-to-use, broad-spectrum disinfectant formulated with isopropyl alcohol and a four-chain quaternary ammonium compound. It is non-corrosive and approved for use on food contact surfaces, providing a safe and effective sanitizer without the limitations and safety concerns of bleach and other noxious chemicals.
Alcohol has long been recognized as a powerful sanitizing agent. It kills bacteria by physically destroying the cell membrane and denaturing the proteins within. After the alcohol has evaporated, the four-chain quaternary ammonium compound in Formula D2 continues the sanitizing effect.
Because alcohol is flammable, it is often diluted, rendering it less effective in killing germs. Biomist has solved that problem with patented technology that encases the Formula D2 mist in a stream of CO2 gas, displacing any oxygen that could cause combustion. This allows the solution to be sprayed safely even in places where there is the possibility of electrical sparks or open flames.
Formula D2 requires a surface-contact time of five minutes to disinfect and can be applied quickly with the CO2-powered Biomist Power Disinfecting System, which comes in three sizes:
Since the systems efficiently atomize the disinfectant, much less solution is used to cover more surface area than trigger or garden-type sprayers.
HOW DOES THE BIOMIST POWER DISINFECTING SYSTEM WORK?
The Biomist Power Disinfecting System sprays a power mist of Formula D2 in a stream of CO2 propellant. This atomizes Formula D2 into microparticles that penetrate into cracks and crevices to kill pathogens that are impossible to reach with other disinfecting methods.
The common hit-or-miss approach using trigger-spray bottles of disinfectant and wipe-down can spread or reintroduce germs to new surfaces. This method is both time-consuming and inadequate.
Biomist's quick point-and-spray application provides more thorough coverage without contact. The sanitizing mist diffuses uniformly throughout the space being treated and settles onto surfaces up to 15 feet away. This technology has been used effectively in North America for more than a decade.
This method kills germs quickly and with less labor, as the Formula D2 mist evaporates to leave surfaces ready for use. With its quick spray application and five-minute dwell time, Biomist reduces the downtime and labor needed for disinfection efforts and eliminates the risk of cross-contamination from wiping surfaces.
"A key advantage of Biomist Formula D2 is its no-wiping formula," said Robert Cook, Biomist vice president. "The operator doesn't have to wait at the location to wipe, so they can move on to disinfect other surfaces."
The elimination of wiping reduces labor, but most importantly, eliminating wiping eliminates the spread of pathogens. The solution is premixed and ready to use, so there's no guesswork or math involved when trying to determine if you have the correct chemical concentration.
SAFER FOR PEOPLE AND ELECTRONICS
No special PPE is required to use the Biomist Power Disinfecting System, although safety glasses and gloves are recommended for incidental contact.
The formula is non-corrosive to metals and therefore safe for use on electronics and other sensitive equipment. It is also safe for food contact surfaces, so it can also be used throughout the station to sanitize kitchens, bathrooms and living areas to help prevent the spread of COVID-19 and other infectious diseases.
"Keeping a clean ambulance is an important part of our operations. We never want to cross-contaminate patients between calls. In addition to that, cleaning is vitally important because it keeps any contaminants or pathogens or diseases from infecting our crew members.
"The Biomist system has proved to be a quick and efficient way for use to clean our ambulances, as well as our fire apparatus," said Lt. Josh Smith of the Elgin, Ill., Fire Department. "We've been able to take it through the stations in the morning at shift change and clean our entire facilities, including difficult-to-clean areas. It has a wide variety of uses for us in addition to the ambulance cleaning."
Where to use Biomist Formula D2:
Ambulance patient care compartment and crew cab.
Personal protective gear, masks and harnesses.
Jump bags and portable equipment.
Radios and communication devices.
Electronics, keyboards, touch pads and monitors.
Patient care devices, such as blood pressure cuffs, stethoscopes and ventilators.
Gurneys, stretchers and wheelchairs.
Communal areas in the station (kitchens, bathrooms and living areas).
For more information, visit Biomist or call 847-850-5530.

Request information from Biomist
Thank You!