Responders in the dark switch to innovative lighting solution
---
By Megan Foucht
EMS1 Staff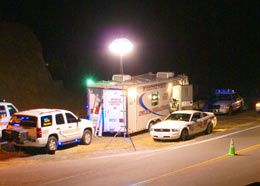 Photo Courtesy Woodstock Police Department
The Woodstock, Ga., Police Department sets up a roadside DUI control point. They used Powermoon technology to light the nighttime scene.
Blinding light has its place — a stage on Broadway, a football game, the Vegas strip. However, when it comes to nighttime incidents, that same light intensity can lead to on-scene safety hazards by blinding responders.
For emergency personnel, such as Mark Legvold, fire chief for the St. Paul, Minn., Army National Guard Base, portable units that offer glare free, reduced-shadow lighting are often preferable.
Previously, Legvold's base made use of vehicle-mounted spotlights mounted to the side of rescue trucks for low-light operations. But it wasn't an ideal solution.
"The low level spotlight gives off a lot of glare and creates a lot of shadow in one direction, which can make any kind of operation difficult," he said.
Unlike most departments, Legvold and his crew don't have a set dispatch area. Since they are a National Guard unit they needed something that could be quickly mobilized and easily set up and used whether it was in downtown St. Paul or Baghdad.
Needing a more nimble solution, Legvold turned to Powermoon, a portable lighted balloon used for a variety of applications, including construction and roadway work. Unlike a typical balloon, Powermoon "floats" on a tripod and "inflates" with an internal spring system that activates with the press of a button. The light is distributed by a reflective fabric that covers the internal system of springs and bulbs. Powermoon can be installed quickly, assembled and ready for use within twenty seconds. 
"I was looking for something to light up a large area without the glare or shadows," Legvold said, "but the big thing was that it was light, portable and easy to store."
Powermoon has been operating out of Germany for the past nine years and has been selling the product to departments in the U.S. for a little over a year and a half.
"Before Powermoon, no one came up with the idea of opening the light with a spring system," said Powermoon Vice President Ingmar Hansen. "There are other lighting balloons out there … but at some point we came up with the idea of a balloon that opens with a durable non-deflatable umbrella."
While there are a number of different sizes of Powermoon spring-action balloons, the company also produces a giant helium balloon, which gives off a similar light but, according to Hansen, is less practical for first responder use due to the expense, safety concerns and ease of operation.
The non-deflating system solves both problems, said Hansen.
First, the cost is significantly less, ranging from $1,400 for a light that uses a 2,000 watt halogen bulb to $8,000 for a system that uses four 1,000 watt metal halide bulbs. There are also Powermoon systems that use metal halide rather than halogen bulbs. According to Hansen, metal halide bulbs put out double the light at half the energy and have a burning time of 3,000 hours compared with 2,000 for halogen lights, saving further energy and cost.
Second, the system is also quite durable — needing only a translucent cover replacement after a year's use — and is easily transferable. Any of the different sized systems will pack into an approximately 5 ft. long carrying case, but vary in weight — ranging from around 45 to 100 lbs. — depending on the height and size of the balloon and ballast. Alone, the balloons weights range from 17 to 25 lbs.
The portability of the balloons was particularly appealing to Captain Billy Kunkel of the Henry County, Ga., Fire Department, who turned to Powermoon primarily because of issues the department had transporting and maneuvering their larger lighting systems.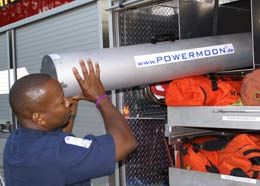 Photo Courtesy Henry County Fire Department
A Henry County, Ga., firefighter stores a Powermoon system in a response vehicle. The Powermoon storage containers are about 5 feet long on average.
"We were putting big stadium lights on our squad trucks," Kunkle said, "but then we had some of them destroyed when people backed into the station with them still attached to the truck."
Chief Rick Moss of the Woodstock, Ga., Police Department not only found that Powermoon's rays outshone most others' but that the ease of use saved him and his team time at incidents.
"The quality of the lighting is significantly different with Powermoon," Moss said. "It's more evenly distributed and gives you 360 degrees of coverage. With other lighting, it's one direction. To light the same area we would need four of the (stand-alone) halogen lights. We would also have to have the generator feeding four different pieces of equipment."
According to Moss, who has spent time as a volunteer firefighter, as a member of a rescue team and the past 30 years as a police officer, Powermoon is an essential tool for many challenging nighttime operations.
"This product, in terms of cost, quality of construction and ability, is something all public safety organizations should consider," he said.