UVA Health System deploys always-connected telemedicine toolkits in ambulances for faster stroke care
---
Sponsored by Cradlepoint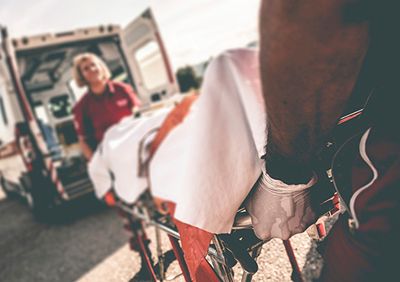 University of Virginia Health System deploys iTREAT (Improving Treatment with Rapid Evaluation of Acute Stroke via Mobile Telemedicine) telemedicine toolkits in ambulances for stroke victims. With constant connectivity being an essential part of this innovative tool, UVA Health System chose Cradlepoint's ruggedized in-vehicle routing solutions with integrated 4G LTE modems. First responders now have a highly reliable, cost-effective toolkit that can save time, money, and lives.
CUSTOMER PROFILE
University of Virginia Health System operates a hospital, level I trauma center, nationally recognized cancer and heart centers, and primary and specialty clinics throughout central Virginia. This award-winning organization's hospital employs nearly 7,000 people and has roughly 60,000 emergency visits per year.
BUSINESS NEEDS
UVA Health System developed a toolkit with telehealth capabilities that links field emergency professionals to the UVA emergency room while stroke victims are being transported via ambulance. Getting a neurological assessment started en route instead of after arrival at the hospital can save lives and prevent paralysis, speech, vision problems, and permanent disability.
The iTREAT toolkits — they include a tablet, high-speed modem, and portable magnetic mount antenna — are being implemented as a research protocol to test the feasibility of ambulance-based mobile telemedicine. Project leaders hypothesize that it will enhance prehospital diagnosis, emergency triage, treatment times, and patient outcomes. Early results for the study have been promising.
A live video link between the ambulance and specialists in the UVA emergency room is a ground-breaking addition — but it's only possible with a continuous high-speed connection. Along with reliable uptime, iTREAT project managers knew the toolkit would require:
Excellent radio strength
Robust antenna capabilities
Portability and small form factor
Durability
Adaptability
Scalability
Quick and easy deployment
Overall affordability
The health system considered using MiFi hotspots, but it was determined that these devices lacked the radio quality and strength, durability, reliability, and antenna capabilities necessary to meet iTREAT's needs.
SOLUTION
UVA Health System selected Cradlepoint's ruggedized COR Series routers to facilitate reliable 4G LTE cellular broadband connectivity at a price that would enable deployment across rural and urban areas.
BENEFITS
Radio Strength
Cradlepoint's COR Series routers feature an enterprise-grade, multi-carrier, software-defined radio that gives iTREAT the reliability and signal strength necessary for ambulances to stay connected even as they move between towers.
Antennas
Cradlepoint devices are accompanied by screw-on antenna connectors for flexible antenna options — including omnidirectional antennas — which can greatly expand coverage radius. With the ability to extend antennas to outside the vehicle, fleet managers using COR Series routers can increase this radius even further.
Portability and Compact Size
The compact form factor of Cradlepoint's COR Series routers was an important element of UVA Health System being able to keep the total size of its iTREAT toolkit to 20 inches by 14 inches by 8 inches.
Durability
With metal housing, shock and vibration protection, and a built-in modem, the COR Series routers are ruggedized, which helps keep iTREAT running smoothly at all times.
"We do find that these kits get banged around a tremendous amount," said Brian Gunnell, Senior System Engineer, UVA Health System's Center for Telehealth.
Quick and Easy Deployment
This plug-and-play 4G LTE solution makes deployment as easy as possible. After installation, firmware upgrades can be done remotely via cloud management.
"It's been a straight forward process. A couple passwords here and there and we get it out," said Gunnell.
Affordability
Using enterprise-grade cellular broadband through the highly affordable COR Series with an integrated modem helped UVA Health System cut the iTREAT toolkit's original projected cost in half. This cost-efficiency will prove important for deployment in rural areas as the project expands.
Download the full case study here
About Cradlepoint
With more than 2,000 agency customers, Cradlepoint has public safety and first responder deployments in every U.S. state, including 25 of the largest cities, providing mission-critical data networks for vehicles, mobile command centers, surveillance cameras, and incident response teams, as well as secure connectivity for in-vehicle, on-scene, and body-worn devices. 

Request more info from Cradlepoint
Thank You!