PRESS RELEASE
One-of-a-Kind Traveling Showcase Features America's Only Sideloading Ambulance
---
use if there is a picture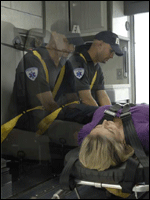 end picture
Roadshow to EMS Expo 2010
In an effort to bring a bit of a national conference to EMS professionals who are not able to attend EMS EXPO, the largest EMS Conference and Tradeshow in North America, on September 17, 2010 a one-of-a-kind travelling showcase is headed across the country presenting the latest in ambulance design and EMS equipment to industry professionals. 
Along the route, Roadshow to EMS EXPO producers will upload candid video press releases and video blogs all the way to Dallas Texas, for media partners emsResponder.com; EMSEXPO.com, and EMS1.com before the ambulance and equipment are displayed at the conference.
use if there is a picture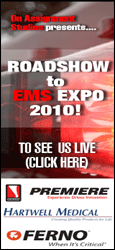 end picture
EMS consultant Janet Smith and award winning EMS photographer Chris Swabb will bring the On Assignment Studios still photo and video production team to numerous locations along the route on behalf of its clients, SJC Industries' Premiere SideLoad Ambulance, FERNO Total Safety Solutions manufacturer and Hartwell Medical ambulance equipment manufacturer/ supplier.  AllMed will also offer EMS apparel items for attendees' review.
During the approximately 2 hour visits at each location, On Assignment Studios will highlight the EMS operations visited, detail the demonstrations of the ambulance and equipment and record medic interviews about safety, change and innovation.
Check in with our website roadshow2expo.com.  
Date and Time

Roadshow to EMS Expo Confirmed Stop

Fri. September 17th.  11:00 AM

Three Rivers Ambulance Authority,
Fort Wayne, IN

Sat. September 18th   11:00 AM

Decatur Fire Department,
Indianapolis, IN

Mon. September 20th 11:00 AM

St. Charles County Ambulance Company,
St. Peters, MO

Mon. September 20, 3:00 /3:30 PM

Warren County Ambulance,
Warrington, MO

Tue. September 21, 1:30 PM

Overland Park Fire Department,
Overland Park, KS

Thu. September 23, 10:00 AM

Life EMS,
Enid, OK

Thur. September 23, 2:30 PM

EMSA- Tulsa OK

Thu. September 23, 5:30 PM

Oklahoma Ambulance Association,
Tulsa, OK

Friday, September 24 , 10:00 AM

LifeNet EMS ,
Texarkana TX

Friday, September 24, 2:00 PM

Pafford EMS,
Minden, LA

Friday September 24, 4:30 PM

Shreveport Fire Department
Shreveport, LA

Sat. September 25, 11:00 AM

MEDSTAR,
Fort Worth, TX

Sat. September 25, 3:00 PM

TLC Ambulance,
Garland, Texas
end picture