Ohio health network adds EMS vehicle fleet
The network is adding 17 ambulances and 2 MICUS for interfacility transports
---
KETTERING, Ohio — Kettering Health Network unveiled a fleet of medical transportation vehicles to meet increased patient transport needs, especially in its freestanding emergency centers and rural facilities.
The network is partnering with Buckeye Ambulance to establish Kettering Mobile Care, a medical transportation service whose vehicles are dedicated solely to transporting patients into and out of the health system's hospitals, emergency departments and outpatient facilities.
Buckeye Ambulance is a locally owned, private ambulance service company specializing in inter-hospital transports and getting patients to and from doctor office visits and specialty appointments.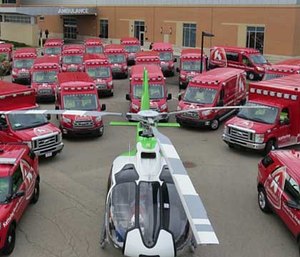 "We are excited to partner with Kettering Health Network to provide the best and most appropriate level of care to patients," Dereck Pristas, president and CEO of Buckeye Ambulance said. "This medical transportation service model is unique to the area. With this service model, Kettering Mobile Care will be able to increase patient access to network facilities and decrease wait times when patients need to be transported."
Kettering Health Network's fleet of 26 patient transportation vehicles will be one of the largest hospital-branded fleets in Ohio. The fleet includes two mobile intensive care units, two response vehicles, 17 ambulances and five ambulettes.
Each vehicle is equipped with electronic medical record technology so paramedics and EMTs can electronically transfer patient medical records to hospitals and medical facilities while in service. Mobile intensive care units and ambulances are equipped with cardiac monitors that transmit EKGs and other vital signs and medical information.
The vehicles are equipped with a GPS tracking system designed to provide real-time locational information of each vehicle. This allows dispatchers to send the closest vehicle to pick up a patient, thus lowering response time.
Each vehicle is painted red with Kettering Health Network and Buckeye Ambulance logos for easy identification.