Army to equip all combat medics with junctional tourniquets
The junctional tourniquets are designed for rapid application and to stem bleeding from traumatic groin and armpit injuries
---
FORT DETRICK, Md. — The U.S. Army is equipping combat medics with a junctional tourniquet that slows bleeding from traumatic injuries sustained in the groin or armpit area.
The SAM™ junctional tourniquet weighs about one pound and straps on to the patient's arm or leg like a belt. The tourniquet has two inflatable air bladders that can be inflated either individually or together. 
"One of the unique elements about this device is that it is easy to carry and use, yet incredibly effective when used properly," said Megan McGhee, a biomedical engineer and product manager assigned to the Project Management Office for Medical Devices at USAMMA.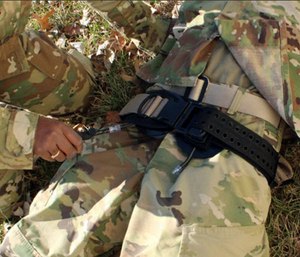 The tourniquet is designed so that a medic could position and inflate it in less than a minute.
Groin and pelvic injuries that cause massive blood loss have become more common on the battlefield because of the use of IED's. Often a combat medic has only a few minutes to stem the blood flow before it is too late.
"If it is going to be something that we want soldiers to carry on the battlefield and use, it has to be not only simple to use but also as small and light-weight as possible," McGhee said.
The SAM™ junctional tourniquet is different from the Combat Application Tourniquet all soldiers currently receive with their gear. The CAT is not effective on junctional injuries and was unable to help in the case of groin and high leg injuries sustained because of IEDs.
The new tourniquet will come with a small bag, a training DVD, and step-by-step instructions. The U.S. Army is currently training new combat medics on how to use the junctional tourniquets.
The U.S. Food and Drug Administration cleared the SAM™ junctional tourniquet in 2013 for inguinal use. The device was also later cleared for axillary use, as well as for pelvic binding.