Ambulance Design: What needs to be fixed or added?
EMS1 LinkedIn members suggest safety and comfort improvements to the patient care and driver compartments, ambulance exterior and more
---
EMS providers spend a lot of time in the ambulance – posting, driving to calls, transporting patients, returning to quarters – and the design of the ambulance has changed little in the last forty years. Sure the patient care compartment is larger than a Ford station wagon ambulance from the 1960s, but the general layout of patient, provider and storage compartments has seen little innovation.
On the road or at a post, an EMS1 columnist suggested these five must-have ambulance features to make life a little bit easier and more comfortable for EMS providers. We also asked members of the EMS1 LinkedIn network for their suggestions. The range of suggestions included changes to the patient care compartment, front of the rig, and the exterior. Here are the best ideas to make ambulances safer and more comfortable for EMS providers.
Patient care compartment design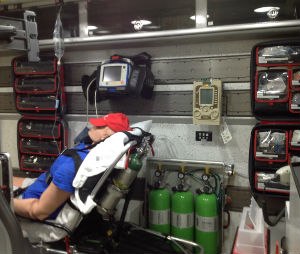 "Start with a redesign and distribution of equipment…on some type of track system that allowed movement and had some type of safety retention device in the event of an accident or sudden stop. Better lighting would be good as well. The idea of a monitor mount is great. I have had the unfortunate circumstance where the monitor has become a large blunt object that causes blunt trauma during a sudden stop or vehicle impact. Not to mention the countless times it ends up in the stair well."
- Robert Stirling, paramedic
"A better mounting of the cardiac monitor so that it can be swiveled for multiple viewing angles and secured in the event of a roll over."
- Adam Astickles, paramedic
"I would like to see better sound deadening in the patient compartment. In our service about a third of our transport time is via a highway. At highway speeds the road noise can interfere with assessing vitals. The noise sometimes requires both the caregiver and the patient to yell to be heard over the noise."
- Jim Mangi, assistant EMS director
"If the rear compartment were elongated about 2 feet, it would allow the EMT to sit safely in the captain's chair while the stretcher is in the supine position."
- Richard Levin, paramedic
"Move communications equipment to the back wall so we can stay seated and call the hospital on the radio. Create bags/kits with the minimum equipment in them. Do we really need to carry 12 pound bags into every call when we only use less than one pound of equipment?"
- Bryan Smith, executive director/chief of operations
"Make some of the compartments smaller so there is more room in the back. Those compartments can be better utilized and organized so they do not have to be so deep. As a tactical medic, it is a pain to be in the back with two medics in full body armor trying to move around and work a critical patient. Even two inches more of space would make a difference."
- Robert Stirling, paramedic
"One of my biggest issues has been having enough equipment in arms reach. This would be a major design change both reducing the out of seat time and by default amount of cabinets. This change would also require quite a bit of organization changes while maintaining the ability to suit the needs of different jurisdictions equipment placement."
- Chris Fox, firefighter/paramedic
Safety harness and provider position
"Some form of safety harness for the medic in the patient compartment that would allow us to safely provide patient care while being restrained against sudden stops and turns."
- Rick Winniford, operations supervisor
"The care giver needs to be forward sitting with lap and shoulder belt near the patient so they can provide care safely without having to move around the ambulance."
- David Gammell, EMS educator
"A harness that will allow someone to do CPR without fearing being tossed if the driver has to make a sudden stop or turn."
- Richard Levin, paramedic
Provider PPE and comfort
"More leg room up front with larger compartments that allow more of a reclined position when posting to allow better relaxing of back and leg muscles to prevent prolonged fatigue."
- Adam Astickles, paramedic
"At Allina Health EMS in St. Paul, Minn., some staff wear helmets in back."
- David Gammell, EMS educator
Ambulance exterior and lighting
"Amber lighting to the sides and rear of our ambulances to reduce red and white on the scene for higher visibility. Utilize clear lenses for emergency lighting and keep the ambulances painted white or bright colors for more visibility during non-emergency mode driving."
- Bryan Smith, executive director/chief of operations
Technology
"I think it would be helpful to have Bluetooth technology with programmed hospital numbers in the back. A push of the button you could be connected and speak while you are working instead of taking one person out of the mix when you need them most."
- Robert Stirling, paramedic
Why change ambulance design?
"Hopefully it's [ambulance design] something we are all thinking about when making apparatus purchases and understand that a few dollars in purchase price may save many more in employee injury or death costs"
- Chris Fox, firefighter/paramedic