Community paramedic bill signed by Colorado governor
New law to ensure community paramedicine programs protect patients and are staffed with educated and competent paramedics
---
EDWARDS, Colo. — A new state law gives Colorado's community paramedics the ability to practice emergency medical procedures during calls. First responders across the state, including those with Eagle County Paramedic Service, are now regulated under legislation signed by Governor John Hickenlooper last week.
Christopher Montera, Interim CEO of Eagle County Paramedic Services, spent the past three years working with the Colorado legislature to ensure that community paramedicine programs protect patients and are staffed with educated and competent paramedics.
"This bill represents the best practices of community paramedic programs, not only in Colorado but around the country. I am so happy we were part of this historic effort," said Montera.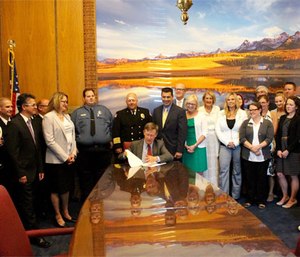 State Senator and paramedic Leroy Garcia and Representative Dan Pabon sponsored the bill.
The new law will allow agencies to bill insurance companies for emergency medical services and help EMS systems break even to provide the care. Colorado is the first state to require a college course completion and pass a national competency exam to become a community paramedic.
"This bill is about rural Colorado and using paramedics in other roles in the community when they are not on emergency calls," Montera said. "It also gives a mechanism for urban areas to adopt smaller programs to serve special populations too."
This law had broad-based support from the EMS community, including Colorado State Fire Chiefs Association, the Colorado Nurses Association, Colorado Hospital Association, Colorado Counties, Special District Association of Colorado and the Colorado Home Care Association.
With the bill now in the state statue, the Colorado Department of Public Health and Environment and the Board of Health will need to adopt rules for the programs as outlined in the bill. This process could take as long as two years based on other programs that have been adopted.
"The hard work is just beginning," Montera said.
Eagle County Paramedics started the first rural community paramedic program in the United States in 2009 and began treating patients in 2010. The Eagle County program is credited with saving thousands of dollars in health care costs since its inception and has been a model program for hundreds of other agencies.
In a 2013 study performed by accounting firm Eide Bailly, the Eagle County program achieved over $500,000 in net health care cost savings in only three years.