PRESS RELEASE
Platinum Educational Group Prepares for New CoAEMSP Requirements
---
GRAND RAPIDS, MI — Platinum Educational Group understands the struggles and obstacles that are presented to EMS educators when it pertains to accreditation. EMS training institutes, particularly paramedic programs, face stringent challenges like the NREMT Portfolio (where applicable), on-site reviews, and most recently the upcoming Appendix G requirements from Committee on Accreditation of Educational Programs for the Emergency Medical Services Professions (CoAEMSP). As always, Platinum Educational Group is programming their online solutions to meet and exceed these new mandates.
Appendix G, the new version to rollout July 1, 2019, will necessitate a student minimum competency matrix and recommended competency minimums. Each CoAEMSP accredited program must establish the minimum number of encounters for each of their students' recommended competencies. Although there are no "required" guidelines set, the accreditation agency has set up recommended values for competency tracking. You can view that information on the CoAEMSP website.
Doug Smith, CEO of Platinum Educational Group stated, "We are always excited about being able to help our clients meet and/or exceed all accreditation and National Registry requirements."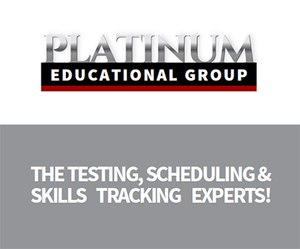 Appendix G requirements will affect Platinum Educational Group's customers that utilize PlatinumPlanner.com for student skills tracking and CoAEMSP reporting. The IT and Development Team for Platinum has already begun the integration process and expects to be ready for all necessary changes from CoAEMSP well before the July 1, 2019 deadline. This will ensure that Platinum customers will have a smooth transition for their programs and students.
For full details of the upcoming CoAEMPS requirements or Platinum Educational Group's solutions, contact Jeremy M. Johnson, at marketing@platinumed.com.
About Platinum Educational Group
Platinum Educational Group is a global leader in online testing, clinical tracking, scheduling, and reporting. Their areas of focus include the Emergency Medical Services, Allied Health, and Nursing industries. They provide valid and reliable online testing for EMT/Paramedic and Registered Nursing educational institutions. Platinum's scheduling software programs include the EMS, Nursing, and all Allied Health industries. With more than 75 years of combined education, testing, and scheduling expertise, they provide services to several thousands of individuals, businesses, and organizations globally via their main office in Grandville, Michigan, and affiliated locations throughout the United States.