When disaster strikes in the U.S., the National Disaster Medical System responds
The nation's medical tactical response team answers the call when mass casualty medical care is needed
---
Updated September 7, 2017
By Donald J. Mihalek, EMS1 Contributor
After Hurricane Katrina hammered the southeastern United States in 2005 and turned New Orleans into a vast, disaster area, the city of roughly 460,000 was largely dysfunctional. Once out of the threatened area, the next priority was treating the sick, wounded and injured.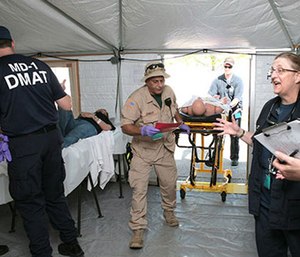 The 2010 earthquake that rocked the nation of Haiti left 2.3 million people homeless, destroyed an entire nation and caused massive catastrophic damage and injures, including an estimate 200,000 dead. The extent of the injuries was horrific and required an expertise that was beyond the Haitian government's capabilities.
When tragedies strike and mass medical care is needed, the U.S. government makes one call to the U.S. Health and Human Services National Disaster Medical System (NDMS) — our nation's medical tactical response team.
National Disaster Medical System
The NDMS "is a federally coordinated system that augments the nation's medical response capability." The idea was originally formed during the Cold War, to respond in case of catastrophic casualties. Since then, NDMS has retooled and primarily assists state and local agencies dealing with medical care during major disasters. 
Their mission is supported by the military and the Department of Veterans Affairs (VA) medical systems. Upon request, NDMS also will deploy to a foreign country to assist that government, as it did in Haiti and other locations around the world, to address major medical disasters. 
This 6,000 person civilian force is always "on call" according to Murad Raheem — also known as "Mojo." Raheem is the regional emergency coordinator for the Office of the Assistant Secretary for Preparedness and Response (ASPR) for Region II, which covers New York, New Jersey, Puerto Rico and U.S. Virgin Islands.  
"The NDMS system is always ready and has teams pre-positioned and is able to respond anywhere within 12 hours of a request — similar to the way the National Guard responds when called out," Raheem said. 
The teams will respond to disasters, major special events, like the Inauguration and Super Bowl, and support any state or local entity needing increased medical support. To mobilize these resources during an emergency, a state will ask the Federal Emergency Management Agency (FEMA) for a disaster declaration which includes medical assistance. FEMA then tasks HHS to fulfill that request and they mobilize a federal force that can cover all the medical assets and care one could think of in a tragedy from A to Z.
"NDMS has three main missions: the emergency medical response by NDMS medical teams including the equipment and supplies to a disaster area; movement of ill and injured patients from a disaster area to areas unaffected by the disaster; and the definitive care of patients at hospitals in areas unaffected by the disaster," Raheem said. 
One of the leverage points for NDMS is its ability to partner with federal agencies including the Department of Defense (DOD), FEMA and the VA.
"These partnerships give us capabilities and resources to draw upon to help us accomplish our mission and handle any surge operations that we may be asked to support," Raheem said. 
The Teams
Like any force, the NDMS system relies on the team concept to work efficiently and effectively. 
"When people apply for and are hired into the NDMS system, they are assigned to a specific team based on location, expertise and mission set," Raheem said. 
Once hired into the NDMS, you could be assigned to any one of the following teams.
DMAT: Disaster Medical Assistance Team which is a fully functioning field hospital that can handle everything from minor injuries to bruises and broken bones. The team travels with a host of medical professionals and gear.
DMORT: Disaster Mortuary Operational Response Team which can handle mass-casualty situations. Once they set up, they handle the identification of remains by using scientific techniques as well as collecting information about the deceased from family members.
NVRT: National Veterinary Response Team is a team of veterinary professionals to care for both the working and victims animals in an affected area.
IRCT: Incident Response Coordination Team is deployed to keep track of and coordinate the multifaceted response.
IMSURT: International Medical Surgical Response Team essentially sends the operating room to the field — sort of a M.A.S.H. unit for disasters — to handle major trauma.
USPHS: U.S. Public Health Service will also send trained medical professionals to assist for one-stop manpower shopping.
HHS may ask for DOD support and to bring some major assets like the USNS Comfort, a floating hospital ship to the disaster zone.
The Gear
All teams have access to their own and pre-established caches of equipment and supplies, including all types of medical equipment to set up an emergency department in the field. They also come equipped with a host of support equipment including tents, cots, food, water, communications gear and generators for long term operations.
The equipment caches are stored at warehouses around the country, broken down by geographic response areas. All locations are discreet and kept that way to protect the capability. In addition to gear and medical supplies, these caches have medications of every variety. Due to the aforementioned partnerships, once the caches run low on medications, the NDMS can tap the VA for more medication from their stockpile or use commercial sources just like a hospital.
To get from one place to another, NDMS uses its partnership with the DOD for transportation. The different military branches airlift capabilities support the NDMS mission.
Ongoing training is part of a team's requirement and members receive regular training on the nonmedical portion of their equipment, including how to package up their gear for rapid transport and deployment. The gear is packaged on pallets in deployment cases, designed for rapid shipment and set up. The typical deployment time is 12 hours from request to fully mission capable.
Joining the Team
To become a member of NDMS, they announce openings anyone can apply for on USAJobs.gov. The teams use doctors, nurses and other medical professionals but also communications specialist, logisticians and coordinators. Once hired, you're assigned a team in your area and fulfill the duty rotations. 
Teams are on call in three parts of the country; west, central and east. If a mobilization order comes, those on-duty teams get the call first and respond where directed. Reserve teams are then placed on-call to respond if mobilized.
Disaster Planning
 "The most important thing anyone can do is prepare for a disaster. Preparation starts way ahead of the actual disaster and starts with developing a disaster plan, depending on where you are and what you may face," Raheem said.
He noted that the main components of a good disaster plan include:
Stocking provision for three days
A method of communication, usually a cell phone
A plan to stay in place and another to evacuate
Preparing with essential clothing and prescription medications
Contact list for family and friends
Portable radio with extra batteries and wind up capabilities to stay informed
Flashlights and matches
Maps of the roads for your evacuation route
"If you evacuate, leave a note in your house with contact information which can be critical for search teams so they can clear your house and not waste time looking for persons that aren't there. These and other items could be essential pieces of your survival plan," Raheem said.
"At the end of the day, while NDMS and others will respond to save the day, it is up to each individual to plan, prepare and be ready to execute a plan if disaster strikes and the ability to survive rests solo on you.