How progressive EMS agencies are using advanced cellular networks to connect
Leveraging Gigabit-Class LTE, smart ambulances, telemedicine, automatic vehicle location and telematics are within reach
---
By Estee Woods
Fire and police departments have been leveraging LTE to increase their response times, improve interdepartmental communications, and solve connectivity challenges with solutions like FirstNet - the nationwide public safety broadband network – and other public safety broadband offerings. Wireless connectivity has been opening doors to new technologies to help public safety agencies better meet their needs and keep their communities safer.
Similar opportunities exist for emergency medical service departments. EMS teams provide vital services to their communities, and we are now seeing an upswing in EMS adoption of mission-critical connected technologies.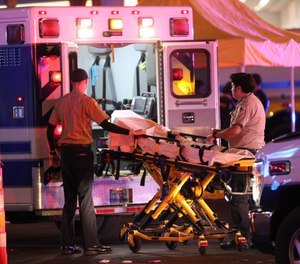 Advancements in cellular networks and the launch of the FirstNet dedicated public safety network along with other commercial solutions for public safety have led to the promises of faster network connection speeds and more advanced technology opportunities, but the reality is far more exciting. By leveraging these advanced cellular networks that are delivering capabilities like Gigabit-Class LTE today, agencies can create efficiencies and help ease the everyday burdens that emergency medical service professionals shoulder.
Most notably, embracing Gigabit-Class LTE for faster mobile connectivity unlocks opportunities like smart ambulances, telemedicine, automatic vehicle location (AVL) and telematics – all of which offer real-world aid to EMS teams by providing the most efficient and effective care for their communities. 
Smart ambulances
With state-of-the-art technology, EMS teams can turn their emergency vehicles into smart ambulances with a Wi-Fi connectivity hub for mission-critical communications with secure IoT device connectivity. This enables faster response times, streamlined logistical processes, and more efficient inventory control and monitoring. The on-the-ground benefits are not only time-saving and stress-reducing but also equate to saving more lives.
Real-world examples include connected shelves within the medical locker in the vehicle to monitor critical inventory and distribute alerts when the door is open, a particular supply is low or an opioid is taken out. This helps eliminate the current daily need for a medical professional to climb into all 100-plus vehicles to manually check inventory and helps monitor removal and usage of controlled substances.
Telemedicine
While telemedicine consultations are becoming widely available, many ambulances and EMS agencies are not taking advantage of this technology. However as advanced cellular networks – many with Gigabit-Class LTE – continue to roll out, departments can now connect their ambulances to clinics and emergency room specialists to allow EMTs to start critical triage and treatments quickly, reliably and securely. This means live support from doctors stationed at hospitals to enable EMT professionals to perform procedures in-ambulance that are simple, life-prolonging and time-sensitive – such as cauterizing a wound, critical triage or starting stroke treatment.
AVL and telematics
Telematics can monitor all aspects of an ambulance from engine temperature, to service statistics and overall vehicle health. Automatic vehicle location can help track and tailor routes to service locations. These applications help to improve response times but require pervasive connectivity.
Other benefits also include a reduction in fuel consumption, decreased overtime, and reduced speeds and travel time. This technology can also help dispatch ambulances that are the closest to the location of the emergency, which will reduce response times.
Adoption of new connected technologies
These examples are just a few ways in which progressive EMS organizations have adopted and implemented cutting-edge connected technologies, but not enough first responders are taking advantage of advanced cellular and Gigabit-Class LTE networks. As these technologies can enhance time- and life-saving benefits, every EMS department needs to develop a pathway to Gigabit LTE and 5G. Connected technologies can transform the speed and effectiveness of emergency services personnel and reduce costs for EMS operators. As a result, it's important to consider implementing or upgrading fixed-site and in-vehicle network infrastructure to ensure you can take advantage of Gigabit-Class LTE today and have a pathway to 5G.
Keep in mind, adoption of connected technologies in the EMS world will not happen overnight. Most agencies are moving slowly with the roll-out of these technologies based on budgetary constraints and a "wait for 5G" mindset.
As hiring qualified EMS personnel becomes more challenging, roads and city streets become more congested and municipal contracts more stringent, accelerating the adoption of connected technologies can play a significant role in achieving greater team efficiency, improving patient outcomes and reducing operation costs for emergency service operators. The good news is that with the availability of fast, reliable and secure advanced and Gigabit-Class LTE networks and in-vehicle wireless edge solutions, a pathway to 5G connectivity will not be the blocker to adoption.
About the author
Estee Woods is the director of public sector and public safety marketing, Cradlepoint.
Request product info from top Dedicated Public Safety Networks​​​​​​​ companies
Thank You!