Va. offers all EMS agencies in state access to pediatric resuscitation system, courses
The Handtevy partnership includes a mobile app and education
---
By Leila Merrill
RICHMOND, Va. — The Virginia Department of Health, Office of Emergency Medical Services announced Wednesday that it will offer all EMS agencies in the state the Handtevy pediatric resuscitation system and education courses.
"The Virginia Office of EMS is very excited to enter into this collaboration with Virginia's Regional EMS Councils and Handtevy to bring this technology to the EMS system," said Gary Brown, director, Virginia Office of EMS. "Giving pediatric patients the highest level of treatment and transport has always been a priority for our office, and this collaboration will serve to enhance that level of treatment now, and in the future."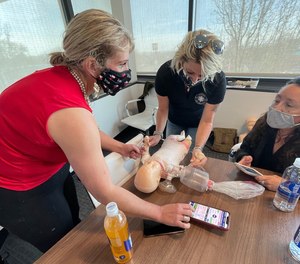 The Florida-based pediatric emergency technology company's core technology solution, Handtevy Mobile, will be deployed on cellular devices including tablets and cellphones. Handtevy Mobile can be used to quickly obtain accurate medication dosing in pediatric emergencies, according to a news release from the state agency.
Handtevy Mobile also includes CPR Assist, an app feature that leads high-performance EMS teams through the highly regimented cardiopulmonary resuscitation bundle. The app provides auditory and visual cues to help clinicians accurately maintain compression and ventilation rates, defibrillate as needed, and administer medications and equipment while documenting the event.
Utah established a similar partnership with Handtevy last year.

Request product info from top EMS CPR & Resuscitation companies
Thank You!