PRESS RELEASE
EMS1.com and Fitch & Associates Release 2019 EMS Trend Report
---
Fourth annual report reveals top concerns among EMS agencies, including recruitment challenges and provider safety 
SAN FRANCISCO — EMS1.com, the leading website for EMS professionals, and Fitch & Associates, a national EMS consulting firm, have released the 2019 EMS Trend Report, a look at the forces shaping the future of EMS systems in the U.S. and Canada.  
Now in its fourth year, the EMS Trend Report continues to identify changes in how agencies are reacting to and implementing advances across the country. The 2019 Trend Report, which includes a detailed analysis of survey results from nearly 3,000 individuals across a diverse representation of EMS response areas and service models, identified that recruitment and retention remain the clear top concerns of EMS professionals across all levels. For the first time, respondents were asked why they thought people were leaving their agencies, as well as whether they planned on moving on from their current employer.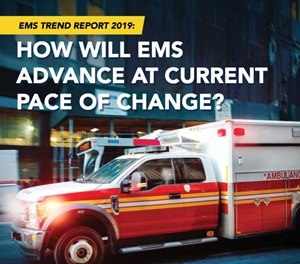 The report also includes analysis and reactions from EMS experts on some of the Trend Report findings, including educational requirements for paramedics and retention challenges, as well as how the report's findings might be best applied by paramedic chiefs and EMS leaders. Questions were developed by Fitch & Associates in collaboration with the EMS1 Editorial Advisory Board and the National EMS Management Association and vetted by a cross section of educators, EMS providers and EMS leaders.  
EMS professionals from all 50 states and the District of Columbia, as well as several in Canada and serving in the military overseas, responded to the survey in early 2019. This year's survey also captured the thoughts of more than 130 EMS medical directors, one of the most critical roles for integrating EMS agencies with the healthcare system, providing evidence-based care and moving the profession forward clinically.  
Some of the key findings from the 2019 EMS Trend Report include: 
Agency priorities. More respondents reported their agencies prioritized patient and provider safety, while fewer reported their agencies were taking steps to improve provider mental health and fatigue. 

Provider concerns. In contrast, respondents identified provider mental health as the issue having the most significant impact on the profession, ranking it above violence against caregivers, sexual harassment, bullying and hazing.  

Lights and sirens. Despite a growing body of evidence that lights and sirens can pose an increased safety risk with minimal impact on response times, there was little change in usage reported year over year.  
Medical director engagement. Less than half of providers surveyed noted they felt their medical director was very engaged with them.  

Technology adoption. Respondents reported an overall increased adoption of prehospital tranexamic acid, blood transfusion and ultrasound technology.  
"As changes in reimbursement, the workforce and technology drive changes in patient care, transportation, education requirements and more, the EMS Trend Report identifies commonalities in how those who provide EMS services across all sizes and types of organizations perceive industry trends, opportunities and challenges," said EMS1 Editor-in-Chief Greg Friese, MS, NRP.   
"Monitoring EMS trends is important to help EMS agencies know what aspects of the profession peer organizations view as priorities and what issues are a struggle," said Jay Fitch, PhD, founding partner and president of Fitch & Associates. "This year's EMS Trend Report profiles perceptions from a significant number of agencies, leaders and caregivers."   
Fitch & Associates and EMS1 announced a strategic partnership in 2015 to produce content focused on quality improvement in EMS and to shed light on trends impacting prehospital medicine providers. Members of Fitch & Associates regularly contribute articles to EMS1, and EMS1 is a premier media partner for the Pinnacle EMS Leadership & Management Conference. 
To download the complete 2019 EMS Trend Report, visit https://www.ems1.com/ems-trend-report/articles/394373048-2019-EMS-Trend-Report-The-forces-shaping-the-future-of-EMS/  
About Fitch & Associates 
For more than 30 years, Fitch & Associates has helped communities deliver more effective and efficient emergency services with a focus on accountability, transparency and sustainability. With clients in all 50 U.S. states, most Canadian provinces and 13 other countries, Fitch & Associates has earned unmatched credibility in both public and private sectors of healthcare and public safety. For more information about Fitch & Associates, visit www.fitchassoc.com. For more information about the Pinnacle EMS Leadership Forum, visit http://pinnacle-ems.com. 
About EMS1.com 
With 218,000 registered members and nearly 600,000 monthly unique visitors, EMS1 serves the EMS community by providing a uniquely comprehensive set of resources. EMS1 is supported by Lexipol, a proven leader in public safety resources. For information on advertising with EMS1, visit our advertising section online.