Ind. EMT charged, accused of battering belligerent patient
Jeramy Goodnight is accused of grabbing the handcuffed patient's head and pushing his thumbs down on the man's eyelids
---
By Leila Merrill
JOHNSON COUNTY, Ind. — A Columbus man who works as an EMT in Edinburgh was charged Friday for his contact with a restrained patient in an ambulance, WTHR reported.
Jeramy Goodnight, 42, is facing charges of official misconduct and misdemeanor battery. He is accused of grabbing the handcuffed patient's head and pushing his thumbs down on the man's eyelids on Dec. 26.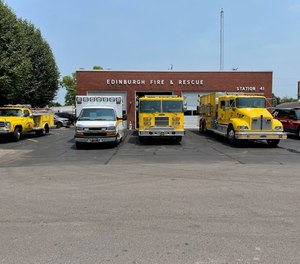 The incident followed a single-car crash that Goodnight and his wife, Brittany Goodnight, a part-time EMT, responded to.
Court documents show that the driver, Logan Graym Retz, became increasingly belligerent while inside the rig, hitting his head and then bleeding. EMS providers restrained him and applied an oxygen mask to keep him from spitting at them, according to a joint press release from the sheriff's office and the prosecutor's office.
Retz continued his belligerence toward Brittany Goodnight, and Jeramy Goodnight allegedly assaulted the patient on the eyelids, causing him to scream.
The sheriff said that Retz did not suffer any serious injuries.
Two deputies were in the ambulance during the incident, and they made the report to their supervisor, which led to an investigation into Jeramy Goodnight.
Goodnight has been suspended without pay, the Shelby News reported.
A court date has not been set.

Request product info from top EMS Consulting, Management and Legal Services companies
Thank You!