TikTok video: 911 called after child bitten by goat at pumpkin patch
A viral video has over 49,000 comments and gets users talking about when not to call for an ambulance
---
By Leila Merrill
LONG BEACH, Calif. — A series of viral TikTok videos begin by showing a child being bitten by a goat at a pumpkin patch and then being loaded into an ambulance after someone called 911. The first video, which has had more than 28.7 million views, has garnered over 49,000 comments since it was published on Oct. 8, including comments about the nationwide EMS shortage.
"An ambulance? Are you kidding me?" one commenter said.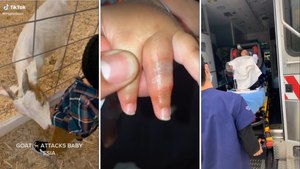 "We're facing a nationwide shortage of ambulance crews and people like you are taking up resources for things that should've been handled at an urgent care," another viewer said.
Another wrote: "The ambulance, though? A waste of resources. Someone with a real emergency could have needed that stretcher."
The user who posted the video and subsequent ones said that they did not take their young child to the hospital right away but later saw the child's finger was swelling and had a discharge. The child is shown in a hospital bed with an IV, and in a subsequent video, resting at home.