New guide takes guesswork out of pediatric resuscitation
Huston-Haynes guide features easy-to-use format that gives you all the info without any guesswork
---
Two paramedics in the Green Bay, Wisc. area, Rick Huston and Mike Haines, created the Huston-Haines Pediatric Resuscitation Guide, and easy to use and easy to read resource that takes the guesswork out of pediatric resuscitation.
It is a fast way to select appropriate energy settings, catheter and other equipment sizes, fluid bolus volumes, ET tube sizes and drug dosages, and is essentially two different products that work neatly together.
The first is a limited-use tape that provides the estimated weight by patient length. The second part is your reference guide, and it's available in two sizes. The larger 8.5" x 11" size is perfect for use in the ambulance, and the smaller 5" x 7" size would work great in your pediatric bag.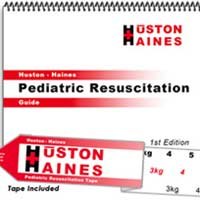 You first use the tape to determine the child's weight. Then you just turn to the page with the weight the tape helped you determine, and all the information pertinent to that weight is listed. This two-step process is actually very smooth.
Even on the compact version, the information you need is easily found. Rather than trying to read a tiny box, you are looking at a much larger page of data. This makes it much faster to find the information you need.
For instance, if a mother has a recent accurate child weight available, you can go directly to the resuscitation guide for your PALS information. I like the clean, simple layout and ease of use. The production values aren't the most ambitious, but the price is right.
The resuscitation guides are only $29.95 and the tapes are just $7. For details, check out their website.