Body-worn camera rollout speeds up in UK
The National Health Service England accelerates plans for all ambulance trusts to use body-worn cameras to better protect staff
---
CHICAGO — The National Health Service (NHS) England is accelerating the rollout of body-worn cameras to all ambulance trusts in England following successful trials with the London Ambulance Service and North East Ambulance Service. 
The trials found that body-worn cameras offer greater transparency for staff and citizens to assist in de-escalating situations, according to a press release.  
"If we are unable to protect our staff, we are unable to provide a service that's fit for purpose for the public we serve," said Darren Green, clinical service manager, North East Ambulance Service. "The availability of body-worn cameras for our staff is something that we have championed for a long time and we are delighted to have led the trial to help implement them nationally."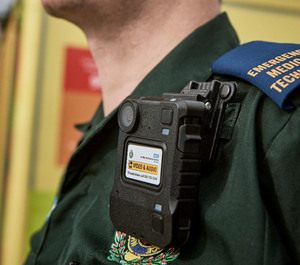 The NHS has selected the Motorola Solutions VB400 body-worn camera and the VideoManager evidence management software to upload and manage the recorded video.  
Dr. John Martin, chief paramedic and quality officer with London Ambulance Service, added: "Looking after our staff and volunteers and keeping them safe is a top priority. These cameras should act as a deterrent and will also help provide evidence."
The VB400 body-worn cameras are user-activated, assigned to a frontline worker using their ID badge and include a battery that lasts beyond the shift with up to 12 hours of recording.