PRESS RELEASE
Globe Manufacturing wins International Achievement Award for ATHLETIX Turnout Gear Design and Innovation
---
Manufacturer Designs the Future of Turnout Gear
PITTSFIELD, N.H. — Globe Manufacturing Company announced that it was awarded the 2016 International Achievement Awards (IAA) Award of Excellence and Best in Category for Advanced Textiles. The award was presented by Industrial Fabrics Association International (IFAI) at their IFAI Expo, the largest specialty fabrics trade show in the Americas, held in Charlotte, North Carolina, on October 20.
Globe received the Award of Excellence and Best in Category for Advanced Textiles for its new ATHLETIX™ turnout gear, which is unlike any firefighter turnout gear today.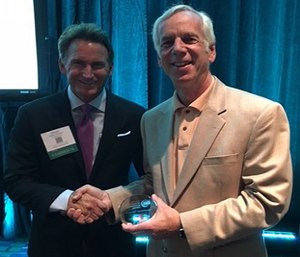 Globe collaborated with three supplier partners on the development of the new materials that enable this all-new design: KOMBAT™ STRETCH PBI®/KEVLAR® fabric, manufactured by TenCate Protective Fabrics, allows closer, less bulky fit with unprecedented range of motion and more flexibility while providing premium thermal break open protection; NOMEX® NANO thermal barrier material, manufactured by DuPont Protection Solutions, is thinner, lighter, more flexible, more breathable, and quicker drying; and 3M™ SCOTCHLITE™ COMFORT TRIM reflective material, manufactured by 3M Company, is segmented and heat sealed to be lighter, more flexible, and breathable without sacrificing visibility.
For more than six decades, IAA has recognized excellence in design and innovation, highlighting truly spectacular work in the specialty fabrics and technical textiles industry. IFAI's goal is to promote awareness of the specialty fabrics used in thousands of products and applications in the growing, $130 billion-plus dollar global fabrics marketplace.
IFAI received a total of 296 entries from 10 countries in 42 categories in this year's competition. Winners were selected based on complexity, design, workmanship, uniqueness, and function. Judges included industry experts, editors, architects, educators, and design professionals.
"At Globe, we are proud of our long history of innovation. It's in our DNA," said Rob Freese, Senior Vice President of Marketing at Globe Manufacturing Company. "Our new ATHLETIX™ turnout gear was inspired by interviews with hundreds of firefighters and made possible through collaboration with our suppliers who take the same 'Voice of the Customer' approach to product development and share our passion for firefighter safety."
About Globe Firefighters need to be prepared to perform at the maximum of their ability, on every call. That's why Globe delivers the most advanced, best-fitting, and longest lasting protection by listening to our customers, creating breakthrough designs, and applying the engineering skills of the nation's most trusted turnout gear manufacturer. Globe turnout gear is designed to protect you, move with you, and improve your performance. It's athletic gear for firefighters. Learn more at www.globeturnoutgear.com.