September 2010 Product Round Up: Boots
---
end picture
EMS1 is focusing on news and information about Boots throughout the month of September 2010. Check out some of these great products currently on the site:
Disclaimer: The products and companies in the below Round Up are sponsors of EMS1.com. Their inclusion in this article is for informational purposes only and does not represent an endorsement by EMS1 or its editorial staff.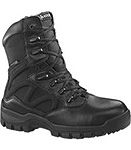 Bates presents the CT-8 8" Durashocks Crosstech® Side Zip Boot
The CT-8 offers an entirely new level of protection with Crosstech® fabric by Gore-Tex®. The CT-8 is liquid penetration resistant and features the Durashocks® Comfort Technology backed by our 30-Day Comfort Guarantee. Made with full grain leather and a ballistic nylon upper, this 8" boot has a side zip that makes this boot easy to take on and off. When it comes to ultimate footwear protection, the CT-8 is there for your feet. For more information, visit www.batesfootwear.com or call 1-800-253-2184.
http://www.globefiresuits.com/footgear/default.aspGlobe FootGear Offers NFPA Certified Boots
Problem: Stiff, poor-fitting boots hurt your feet and your performance. Globe is the solution. Globe Emergency Series is certified to NFPA 1999 (Emergency Medical). Unique cement construction combines contoured outsole, 3D lasting board with built-in flex zone, and multi-layer composite puncture protection. Without stiff welts, ribbed midsoles, or steel plates, this attachment process is far more flexible than traditional welt construction. For more information, call (603) 435-8323 or visit www.globefootgear.com.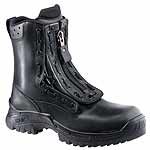 The HAIX Rescue U.S. Offers a Number of Specialized Features
The HAIX Rescue U.S. features the HAIX Arch Support System, Crosstech® Laminate Technology, HAIX climate system, HAIX lacing system, puncture resistant midsole, all leather construction, protective toe cap, and reinforced front zipper with pull tab fixture. These boots are ideal as EMS or Station boots. For more information, call (866) 344-HAIX or visit www.haix.com.

Introducing the Comfortable Thorogood Side Zip Boot from Boots-USA
This station boot is as comfortable as it is durable. The Thorogood All Leather Side Zip Composite Safety Toe boot features Shock Zone technology that reduces foot fatigue and offers unmatched comfort. The two density rubber outsole is oil and slip resistant. This boot is electric shock resistant, keeping you safe on the job. Full-grain black leather can be polished and size zip provides easy on and off when duty calls. Shop all brands of boots at www.boots-usa.com or call (949) 682-7737.
For more information on Boots, visit the EMS1 Boots Product Category at www.ems1.com/ems-products/boots.