6 places to buy a great work boot
The difficult part of picking a great boot is finding the one that fits you the best, with a price and feature set you can live with
---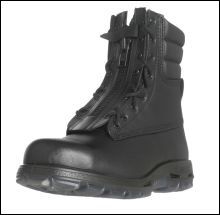 The Rescue Boot by Redback
Updated July 14, 2014
A good pair of boots is invaluable, especially at that moment when you really need them. I was talking to a 9/11 responder who said he always used to wear black tennis shoes on the job — up until the World Trade Center disaster. Now he always wears Danner boots. When disaster strikes, good foot protection is a high priority.
This statement is particularly true for me. Perhaps it traces back to my father and grandfather, who were both very particular about their shoes. They both lined up all their favorites along one side of their bed, as do I. None of the shoes were cheap and every pair was solid enough to be re-soled until eternity. I am much the same way; I won't compromise my footwear.
My Redback Rescue boots are simply the most comfortable boots I've ever worn. They're built like a tank with triple-stitched full-leather uppers, full leather lining, a center zip, and even ANSI steel toes. By the end of the first day wearing them, they felt like familiar old friends on my feet.
But the Redbacks are not cheap. They are manufactured in Australia with one of the thickest and most durable leathers I've ever seen. The soles and mid-soles are made of high-tech composites and they don't break down easily. They are also extremely waterproof; you basically have to fully immerse your feet in water in order to get them wet.
However, there are many other great boots on the market today and a boot that feels great to one person may not fit well on others. The difficult part of picking a great boot is finding the one that fits you the best, with a price and feature set you can live with. Here are a few companies that are certainly worth looking into the next time you need a new pair of good boots.
A look at the current EMS footwear market
1. Danner Shoe Mfg. Company began in 1932 with five employees and focused on manufacturing handcrafted work boots. Danner attempts to set itself apart from the competition by highlighting the "overbuilding" of its products that results in sturdy, quality construction. Danner is also one of the few boot companies to offer footwear "re-crafting" – they will replace the sole and give the boot a face-lift once it's worn out. It only costs half the original price ($110 to $350).
2. HAIX produces very functional, high-quality and innovative footwear built for professionals. While these are some of the most expensive duty boots on the market, you can make the argument that you will get what you pay for. They also offer a boot re-sole program that lends to the idea of the boots being a long-term investment.
3. Timberland is another huge name in duty footwear. They have one of the largest selections on the market that range from $110 to $200. They also offer custom-made boots, where you can select every detail, from color to stitching, to create a one-of-a-kind, personalized boot. Timberland is an interesting company with a strong sense of corporate values and adherence to a civic mission.
Timberland also produces the new Pro Valor Series, exclusively distributed by I. Spiewak & Sons. These boots have an innovative sizing system that allows the wearer to modify the boots' insole. The Pro Valor designers claim that 60 percent of people cannot find a comfortable fit with current, conventional sizing, and that 35 percent have different sizes for their left and right feet. Pro Valor's "PreciseFit" system aims to solve this problem by featuring a system of inserts that allows customization of each shoe. Forefoot inserts lock into a removable EVA foot bed base and can be used to either take-up more or less space to size each foot individually. Inserts can be changed at any time to accommodate different socks, activities and seasons.
4. Redwing Boots have been around for many years. They make many different styles and types of great quality boots. I've owned several pairs of Redwings over the years and have always been very happy with them. Prices range from $70 to $215.
5. Converse, most popularly known for its tennis shoes, has recently introduced its new line of tactical boots. This boot design is the perfect choice for people wanting comfort and performance in a more lightweight boot. Prices range from about $80 to $110.
6. Ridge offers boots with a great price point for departments that are on a tight budget, but still want decent quality. Selection ranges in everything from a leather/nylon boot to a full leather blood-borne, pathogen-resistant boot. This company has been in the market for over a decade and offer good quality at great prices ($45 to $130).
These are only a few of the many footwear companies that offer quality boots for the EMS professional. When selecting a boot, start with finding the right fit, then focus on which features you really need and can afford. Boots are probably one of the most expensive parts of an EMS uniform — but they are also one of the most important.
Protecting your feet can protect your life and can help you do your job to save someone else's. In this instance, spending a little more money is worth the extra performance and value that you will receive from a good pair of boots. Finding the right boot for you can prove to be a difficult and challenging task, but you will find it to be both rewarding and crucial in allowing you to do your job well.