Korean firefighter-EMTs to wear body cameras in the ambulance
Doctors will be able to see a live feed of patients to provide better medical direction
---
By EMS1 Staff
JEONJU, South Korea – Starting Sept. 1, the Jeonbuk Fire Headquarters in South Korea will equip its medical team with wearable cameras.
According to the department, the cameras will help doctors and medical directors provide more comprehensive emergency guidance en route to hospitals.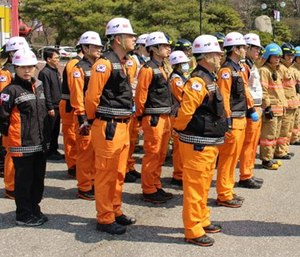 Medical responders will be able to focus more on patient care because they won't be busy explaining the situation over the phone or radio. Instead, doctors will receive a live feed showing the patient's condition in real-time.
Cameras will also be used to secure evidence during cases of patients assaulting EMTs, reports KoreaBizWire.
In total, 19 ambulance crews and the fire department's helicopter will participate in the trial program.
"The system will be of significant help in increasing the overall survival rate in more critical patients," said Lee Seon-jae, director of Jeonbuk Fire Headquarters. "After a two-month pilot operation, the system will be officially introduced in November."
Request product info from top EMS Body Cameras companies
Thank You!