Safe Life Defense wins 'Innovative Product of the Year' at EMS World 2017 convention
---
LAS VEGAS — The success of Safe Life Defense Body Armor is no longer a secret! At The 2017 EMS WORLD Convention (the largest EMS convention in North America) Safe Life Defense received the coveted "Innovative Product of the Year" Award! President Nick Groat is excited and honored to accept this award: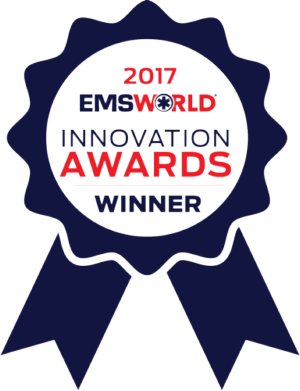 "When I designed our Multi-Threat Armor system, I knew it had to be something special. Body Armor needed to be modernized and refreshed to meet the needs of EMS professionals – and I knew that Safe Life Defense could create exceptional body armor for First Responders. I never anticipated receiving any awards – but it is amazing to be recognized. I set out to make body armor that provided an unmatched level of quality, value, and protection. And winning an award for a product I truly believe in is really special!"
Safe Life Defense won "Innovative Product of the Year" by doing a lot of things RIGHT. First, the Safe Life Defense Multi-Threat Vest has an impressive and thoughtful design. Based on customer review, it is known as the most comfortable vest for daily wear. This is achieved through a custom shooter's cut, self-structured panels, and a perfectly executed carrier that has an antimicrobial mesh backing and no excess fabric.
Besides making a comfortable vest that you will still be happily wearing at the end of your shift, Safe Life Defense boasts an outstanding level of protection. Having multi-threat armor is fantastic for the EMS profession, because blades and punches are just as prevalent as ballistic threats. Safe Life Defense has two main protection levels –a standard NIJ iiia and an exclusive iiia+ enhanced. What makes the iiia+ enhanced vest really unique is that it protects against armor piercing rounds, namely FN 5.7 and Liberty Civil Defense. It also is enhanced to protect against stabs up to 36 joules of force – and stops repeated stabs from even ice picks! If you need to see to believe, Safe Life Defense has several popular videos on YouTube that show this vest in action – and it is nothing short of absolutely awesome.
Finally, the EMS World "Innovative Product of the Year" award took into account that Safe Life Defense has updated the retail side of body armor buying for the better. Purchasing Safe Life Defense Body Armor is simple, easy, and quick – most of the time your armor ships the same day it is ordered! With impeccable customer service, a huge online presence, and a truly superior product – is it not surprising that Safe Life Defense won The 2017 Innovative Product of the Year award.
What's next for Safe Life Defense? The company will release several new products at the beginning of next year and although nothing is set in stone, there is a lot of buzz on Facebook about a potential tactical style carrier. The Safe Life Defense Multi-Threat vest will also make its debut appearance at SHOT SHOW 2018 early next year, and will have the opportunity to win another award. President Nick Groat is looking to the future:
"I am going to continue to make this company something people will associate with trust, honesty, and value. We are all about quality here – quality in our products and a quality experience for our customers. We come to work every day to help keep people safe – and we will never forget that mission. I am honored to win The 2017 EMS WORLD "Innovative Product of the Year" Award, and pledge to keep innovating body armor and producing the very best products for First Responders."
To learn more about the Safe Life Defense Multi-Threat Vest, you can check out (www.safelifedefense.com) To learn more about their company and product development, you can follow Safe Life Defense on Facebook and Instagram!
About Safe Life Defense
Safe Life Defense makes the only bullet, strike and slash resistant vests on the market! At only $399, our high-quality concealable vests are incredibly affordable. With full side protection, our vests offer 15% more coverage than our competitors! Sizing is available from S-XXXL to fit nearly all body types. For those who simply cannot afford the protection they need, we provide our armor at no cost through the Safe Life Defense Guardian Angel Program.

Request more info from Safe Life Defense
Thank You!