Bills would require FDNY to give EMS providers body armor, self-defense training
Councilman Joseph Borelli plans to add language to the bill that would require the FD to replace aging vests as the protective material deteriorates
---
By Erik Bascome
Staten Island Advance, N.Y.
STATEN ISLAND, N.Y. — One of the borough's City Council members has introduced new legislation intended to better protect New York City's emergency medical technicians (EMTs) amid recent violent attacks.
On Thursday, Councilman Joseph Borelli (R-South Shore) introduced two EMT safety bills, the first of which would require the FDNY to provide modern body armor to all employees tasked with providing medical services.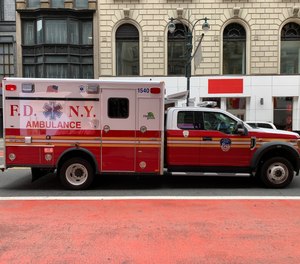 The councilman plans to add language to the bill that will require the FDNY to replace aging vests as the protective material deteriorates over time.
The second bill would require the FDNY to provide de-escalation and self-defense training to all EMTs on an annual basis.
"This is the new reality. The current defense training protocols and armored vest policy is no longer adequate to address the growing number of assaults on EMTs over the past three years," Borelli said. "This will ensure access to modern equipment that will be replaced after its useful life, and give employees adequate training to confront these threats."
Currently, the FDNY provides body armor to all members coming out of the academy, though some EMTs have said that their aging vests haven't been replaced in over a decade. De-escalation and self-defense training is provided, but only once as opposed to annually, as the new legislation would require.
"As with any proposed legislation, the Department will review the bills and work with the councilmembers to improve the safety of our members," an FDNY spokeswoman told the Staten Island Advance/SILive.com.
In recent years, the number of attacks against EMTs has skyrocketed, with the 163 such incidents in 2018 more than doubling to 386 in 2021, according to city data.
On May 18, an 25-year-old EMT was shot in the back of an ambulance by the patient he was aiding in West Brighton.
Prior to the shooting, EMTs responded to a call of a disorderly person outside the Funky Monkey Lounge, located at 1205 Forest Ave.
They spotted Thomas McCauley, 37, of Elm Park, in front of the bar and placed him in the back of the ambulance. While the vehicle was traveling down Forest Avenue, the defendant pointed a gun toward 25-year-old EMT Richard McMahon's face and shot him in the shoulder, prosecutors alleged.
In October, McCauley pleaded guilty in state Supreme Court, St. George, to second-degree attempted murder in connection with the May 18 incident, being sentenced to 11 years in prison, in addition to five years post-release supervision.
___
(c)2023 Staten Island Advance, N.Y.
Visit Staten Island Advance, N.Y. at www.silive.com
Distributed by Tribune Content Agency, LLC.
McClatchy-Tribune News Service