'Trauma for Teachers' training designed by Calif. student, fire department
The program will train faculty to prepare for emergency situations and supply bleeding control kits for classrooms
---
Julia Sclafani
Daily Pilot, Costa Mesa, Calif.
HUNTINGTON BEACH, Calif. — When Sophia Cendro returned to Huntington Beach High School at the beginning of her junior year, she saw the campus with fresh eyes.
Walking around, she thought: "What if someone just gets injured? What if there's an accident in a classroom? How would I respond? What materials would I use? How can I be resourceful in this sort of situation?"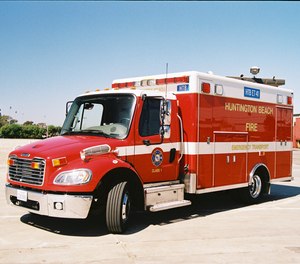 She was fresh off her first summer working as a seasonal lifeguard at Huntington City Beach.
"This is so cool that I know what to do," she said. "I feel so prepared because of my training from the lifeguard academy."
Sophia, of Huntington Beach, joined the junior lifeguards in middle school, and as she moved through the ranks, she "fell in love with it," she said.
"I started understanding what lifeguarding was. It wasn't just being at the beach all day and running and swimming. There's a whole medical side to it that not many people really think about," she said.
The training and awareness she gained stuck with her off the job and enabled her to see opportunities to share her skills and preparedness. She also saw potential to train others at her school.
"I was seeing on the news recent events of shooting threats and school violence threats and I remembered coming up with this idea," Sophia said. "Why wait on it? This is a good time to start implementing in schools."
Now a senior and with two seasons of work as a lifeguard under her belt, Sophia, 17, designed a training workshop with the Huntington Beach Fire Department and its Marine Safety Division called Trauma for Teachers, which will equip campus faculty and staff to administer potentially lifesaving interventions. The hour-and-45-minute session be held during a teacher in-service day Monday.
"I knew that I wanted to do bleeding control and hands-only CPR," Sophia said. When she approached her lifeguard supervisors in the Marine Safety Division, they were supportive and connected her with Fire Department members who have been trained with Stop the Bleed, a national awareness campaign designed to teach bystanders how to respond to emergency bleeding situations before professional help arrives.
"I know that in emergencies on school campuses or if there's an accident in a classroom, it could take awhile for paramedics to arrive or for the scene to be safe enough for paramedics to actually enter the scene so ... if teachers are already there on scene, they can treat them first," Sophia said.
Her lifeguard field training supervisor, Huntington Beach Marine Safety Officer Doug Leach, agreed.
"Fire or professional first responders might be five, 10, 15 minutes out, so the earlier you can intervene and stop that bleeding and begin CPR, the higher chance of survival for potential victims," Leach said.
"Unfortunately, every time you listen to a news report, it sounds like there's an incident of a mass shooting somewhere in our country," Leach said. "It was known that there was a need for this type of training. ... I've got to give full credit to Sophia for being a person of action and a young lady of consequence that had the foresight to say, 'Hey, I want to bring this to my community.'
"Those teachers will be equipped to administer those interventions and have a higher likely chance of student survival."
But training is only as good as one's ability to implement it, so Sophia didn't stop at the workshop curriculum.
"They shouldn't just be given the training, they should be given the supplies," she said.
With the help of Huntington Beach High faculty member Rose Haunreiter, who supervises a campus club that Sophia is involved in, Trauma for Teachers secured a $5,000 grant from the Huntington Beach High School Foundation to pay for bleeding-control kits.
Sophia contacted North America Rescue, a medical supplier, and asked if it could help with supply kits.
Thanks to a discount, Sophia was able to use the grant to buy 140 bleed kits, which include a tourniquet, gloves, gauze, scissors and a pen to record when a tourniquet is applied and other details. The school will install the kits in all classrooms and other busy areas, including the administrative office and cafeteria and on carts used by campus personnel.
About 200 faculty and staff members will attend Monday's training.
"As a medical responder, I know that every year you need to freshen up your skills. ... I want this training to happen every year," Sophia said.
The kits contain nothing with an expiration date, reducing costs and the resources needed to keep the campus equipped.
"The only thing that expires is the muscle memory," said Huntington Beach firefighter paramedic Drew DiPaola, who is a Stop the Bleed instructor and will help facilitate Monday's session. He was instrumental in getting the program going.
"I would anticipate, if all goes well, that this is something that the principal may want to implement every year ... which I'm sure the Fire Department would be very interested in doing," DiPaola said.
Principal Dan Morris said the Trauma for Teachers training is another way the campus is adapting to evolving safety concerns.
"It will definitely benefit our entire community, not only the school," Morris said. "If there's a trauma event out in our community, our teachers and staff will be able to step in."
Morris already is in talks with the Huntington Beach Union High School District about bringing the training to other campuses.
"I've always been a proponent of the schools working for our kids, and when our students step up and take ownership of things like this training, it really helps our staff understand that we do work for our kids, and if our kids know that, they will step up for us," Morris said.
DiPaola was able to secure CPR and other training materials loaned from the Orange County Fire Authority, Orange County Health Care Agency and Children's Hospital of Orange County, along with the Fire Department's training supplies.
In addition to DiPaola and other paramedics who will be leading the training, nurses, doctors and other personnel from CHOC and Huntington Beach hospitals will help, along with 10 lifeguards and lifeguard supervisors.
"It's kind of turned into quite a big event," DiPaola said.
Sophia has her sights set on working toward a career in the medical field, which she is looking forward to exploring in college next year.
"I'm not going to be at this school forever, and I know that my teachers are ... always going to be the authority figures in these sorts of situations," she said. "I already feel safe on my school campus, but knowing that all my teachers are trained ... provides such a sense of security to me."
———
©2020 the Daily Pilot (Costa Mesa, Calif.)
McClatchy-Tribune News Service

Request product info from top EMS Bleeding Control companies
Thank You!