Medical billing becomes consumer issue for Congress
Surprise medical billing and high air medical transport costs are getting attention and triggering legislation
---
By Michael Kirby 
As an emergency medical care provider, you may not think much about the costs later borne by patients when you're in the field saving lives. But consider that patients may hesitate in calling 911 for an ambulance for fear of the bills that might follow. Think of the patient as a consumer for the next few minutes. 
In one Virginia jurisdiction, a simple BLS transport costs patients $400. ALS care transport will run them $500, and level II Advanced Life Support care and transport will cost them $675 and $10 per mile. You might be surprised by what your patients face after their ordeals.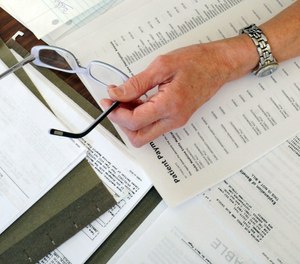 Care providers, like hospitals, and practitioners, like anesthesiologists or radiologists, typically practice in networks closely associated with insurance companies. But in an emergency care situation – say, where the patient is unconscious and didn't happen to have an insurance card in their wallet that day – first responders want to stabilize patients and get them to the nearest hospital regardless of insurance networks. The problem for consumer-patients is when they receive care outside of them.  
Choice and competition are steady themes in economics for good reason; they keep down prices, which is good for consumers. Typically, first responders and hospitals don't have much choice over whose medevac helicopter is going to transport trauma patients. In some parts of the country, like in rural Alaska, helicopters or fixed-wing aircraft are the only ambulances.  
A March report by the Government Accountability Office found that the median price for a medevac was over $36,000 and just over $40,000 for a plane in 2017. An insurance policy may cover some of that cost, but the consumer would be billed the remainder, a practice called balance billing. That matters because, according to the GAO, approximately two-thirds of all air ambulance transports for insured patients were out-of-network. One study found that even on the ground, over half of ambulance transports in 2014 were out-of-network. 
Senator John Barrasso (R-WY) has called surprise bills, "an unfair financial burden on many families, completely unexpected medical costs that they can't afford and aren't expecting." 
Legislation introduced to combat surprise medical billing 
The Transportation Department is forming an advisory committee under a 2018 law to recommend options, but Congress may actually beat them to a solution – at least to balance billing. A Senate panel reported out a bill that would outright ban balance billing by air ambulance companies. A House committee approved a bill that would instead require reporting about costs to the government.  
The Association of Air Medical Services counters that approximately half of all patients flown are on government insurance like Medicaid or Medicare and about 2% pay nothing. The AAMS noted in 2017 that Medicare reimbursements are only partial and, when coupled with uncompensated care for the uninsured, "have significant cumulative economic effects and could affect rates" and hurt access.  
Most of the 250 companies affected are contracted by hospitals, jurisdictions and states to operate from over 100 bases identified by GAO. They argue that if reimbursements come down too much, they will be put out of business – leaving patients in whole geographic regions without an air ambulance provider. The public messaging battle is on over whether to keep the status quo intact, according to Washington-based Roll Call. 
Senator Sherrod Brown (D-OH) noted in a September release that one constituent's daughter was billed over $3,000 for emergency care even though she had two forms of insurance. His legislation is bipartisan, cosponsored with fellow Ohioan Rob Portman (R-OH). "When you're rushed to the hospital for a heart attack, the last thing you or your loved ones should have to worry about is whether the ambulance is taking you to an in-network hospital," he wrote. 
Brown's STOP Surprise Medical Bills Act would move patients pay in-network costs wherever they receive emergency medical care, including follow-up recovery care when they cannot be transported to an out-of-network facility. Even for non-emergency care, patients would see in-network rates for care received at in-network facilities. There's more math to it but nonetheless, it faces no better chance at floor time or passage than any other bill introduced in the Senate this Congress. 
In the House, eight freshman Democrats introduced a bill in September called the UPDATE Act, which would require insurers to regularly update their directories so that patients are not surprised to get a bill from it out-of-network healthcare provider. "Today, 40% of Americans would struggle to cover a $400 emergency expense," Rep. Debbie Mucarsel-Powell (D-FL) reported. 
A stronger bipartisan bill, called the Protecting People from Surprise Medical Bills Act was introduced in June with 30 cosponsors led by doctors from both sides of the political aisle. Rep. Raul Ruiz (D-CA) said at the time that, "we agree that patients must come first." Rep. David Roe (R-TN) observed that, "providers are between a rock and a hard place because a Federal law called EMTALA requires them to provide care regardless of their ability to pay." Their bill creates an arbitration system for providers and insurers. Read the 1986 law here. 
The AAMS "fully supports additional transparency and consumer protection actions" suggested by the GAO report. That's good, because bills will move this Congress. You may now resume thinking of consumers in your care as patients. 
[Read: Rising air ambulance bills hit patients with added shock]  
About the author 
Michael Kirby is managing editor with Federal Network, a credentialed news bureau on Capitol Hill that provides digital video and information services to news organizations across the web. 

Request product info from top EMS Billing Services companies
Thank You!