Former NY EMS captain admits to embezzling $70k from department
Matthew Gannon, who was the president of Sloatsburg Volunteer Ambulance Corps, confessed to using agency funds for New York Jets tickets, personal expenses
---
By Jessie Forand
SLOATSBURG, N.Y. — The former head of a New York ambulance company admitted to embezzling more than $70,000 from his organization. 
Patch reported that Matthew Gannon, 53, pleaded guilty to felony embezzlement charges.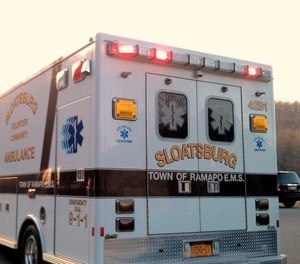 Gannon was the president of the Sloatsburg Volunteer Ambulance Corps, in Ramapo, N.Y., when he transferred organizational funds of more than $24,000 to his personal accounts, Patch wrote, making ambulance corps payments to himself for unauthorized personal expenditures. 
Patch reported that Gannon spent more than $9,000 on New York Jets football tickets and made payments to All-State Insurance, Optimum, Salve Regina University, State Farm Insurance, Lucking Field Hockey, ACE Hardware and the University of Albany with money found to come from the agency. 
Gannon was arrested in August and will be sentenced in October. He could serve as little as six months, part-time, or up to 3 years in a state prison, depending on how quickly he pays restitution to the town of Ramapo. 
"We cannot allow persons who oversee the funds of such a vital community program, such as a volunteer ambulance corps, to feel they can steal without consequence," Rockland County District Attorney Tom Walsh said. 

Request product info from top EMS Billing and Administration companies
Thank You!