Case study: How EMSStat saw a 100% reduction in cot-related injuries for four years
Learn how Stryker's Powered System has extended the careers of paramedics, protected patients and reduced on-the-job injuries
---
Content provided by Stryker 
EMSStat serves the people of central Oklahoma, covering over 400 square miles in the Norman, Moore and immediate surrounding areas. As the paramedic department of the Norman Regional Health System, EMSStat is dedicated to the highest quality patient care, patient outcomes and community service.
The challenge: reducing cot lifting injuries among EMS providers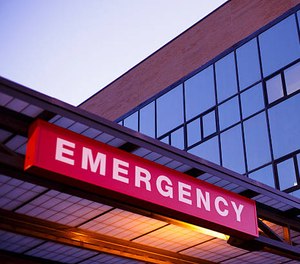 In 2014, Stryker released a case study highlighting the injury reductions experienced by EMSStat in their first year using the Powered System. After implementation in August, 2013, EMSStat decreased their cot lifting injuries to zero in the first full year of service. Since that study was released, EMSStat has seen a 42% increase in call volume and added seven ambulances to their fleet1.In spite of these increases, EMSStat has not experienced a single cot related injury2, which has resulted in significant cost savings.
THE SOLUTION: Stryker brings year-over-year injury reduction and significant cost savings
In the years 2011 and 2012, EMSStat recorded 28 injury claims costing the organization $343,000. Of the 28 claims, 10 resulted from lifting cots which accounted for more than 73% of total injury costs at an average of $25,176.90 per claim3. With this in mind, EMSStat knew there must be an opportunity for improvement. As Director of Safety and Security for Norman Regional Health System, Shane Cohea took on the task of finding ways to reduce injuries for medics.
"After 1.5 years of research it was clear that the Stryker Power-PRO and Power-LOAD would
be a key asset for injury reduction," said Cohea. 

The Results: EMSStat sees improvements in caregiver satisfaction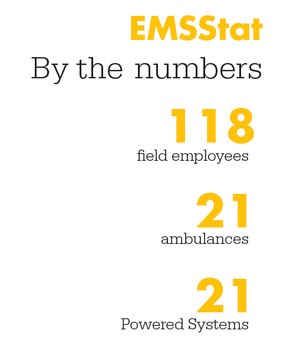 Since implementing the Powered System in August, 2013, EMSStat has not experienced a single cot related injury. Assuming that EMSStat experienced the same number of claims and the average cost of $25,176.90 per injury was carried over through the end of 2017, cot-related injuries would have cost the organization $545,499.50 in direct costs paid out for cot related injury claims.
"This is one of the best Cost Analysis I have ever compiled for our Executive Team, said Cohea.
In addition to sustained injury reduction and organizational cost savings, EMSStat has seen improvements in caregiver satisfaction4. 41 field employees responded to a survey with their perceptions on the Powered System.
EMSStat looks to continue to be on the leading edge of prehospital care, and adopting the Powered System is just
one way that they are taking care of their employees. As a part of the larger Norman Regional Health System, EMSStat is proud to provide the organization with a positive return on investment since implementation, and is hopeful to see continued improvements in staff satisfaction, efficiencies, and patient care for years to come.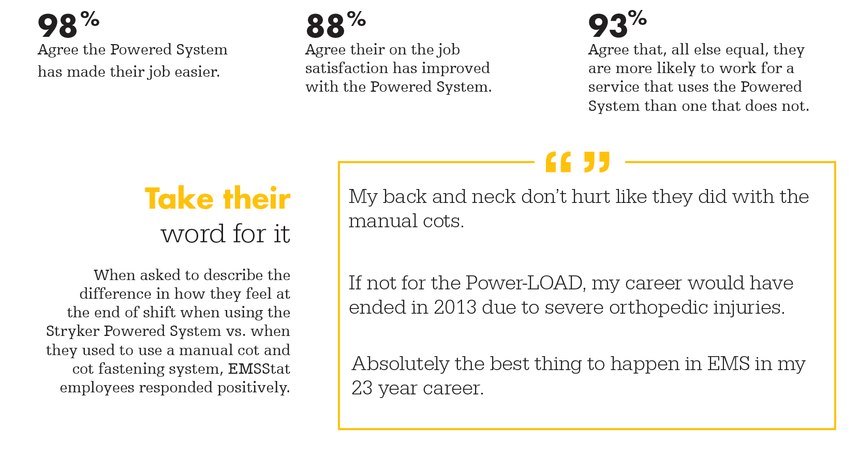 1. Statistics provided by EMSStat Crew Chief.
2. Through December 31, 2017.
3. Injury costs and statistics provided by Director of Safety and Security, Norman Regional Health System.
4. Statistics and statements gathered from employees of EMSStat via survey approved by Crew Chief, Norman Regional Health
System. The views and opinions expressed herein are those of the survey respondents. Percentages include "Strongly Agree" and "Agree" responses combined and are rounded to the nearest whole percentage.

Request information from Stryker
Thank You!