3 benefits of a community paramedicine program
A treatment-based approach can help your agency provide more appropriate care, reduce costly transports and benefit your staff as well as the patients you serve
---
Sponsored by Stryker
By Shawna Renga for EMS1 BrandFocus
Community paramedicine programs are beginning to grow across the nation, and the potential benefits of such programs are numerous and wide-reaching.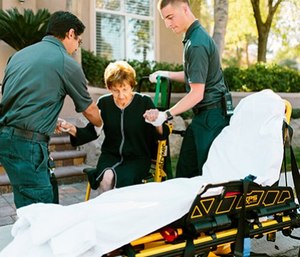 The concept of community paramedicine is quite broad in scope, allowing individual agencies to develop and implement a program that best meets the needs of their constituents. Three potential benefits of a community paramedicine program are:
Chronic disease management and injury prevention.
Reduced 911 requests and transports for non-urgent patients.
The ability to provide appropriate follow-up care for high-risk patients without hospital readmission.
Reducing costs and providing more appropriate care can yield benefits for your agency and staff, as well as for the patients you serve.
1.Chronic disease management and injury prevention
Community paramedicine can aid in disease and injury prevention by helping patients manage chronic diseases such as diabetes, high blood pressure and high cholesterol. Simple home checks to verify compliance with prescription medications, assess blood pressure or blood sugar and confirm the safety of the environment can go a long way in keeping patients away from the hospital setting.
These visits can also help reduce repeated calls to 911 for non-urgent needs that tie up EMS resources with unnecessary transports. Community paramedics can conduct wellness checks, provide referrals as required and implement initiatives that teach patients how to accident-proof their homes.
In rural areas, community paramedicine programs are particularly helpful in closing gaps in the local healthcare delivery system due to shortages of primary care physicians [1]. Nationally, people residing in rural areas are reported to have poorer health status and higher rates of chronic illness than those in urban areas. Community paramedicine programs can aid in the management of chronic illness for these high-risk patients, as home visits from a paramedic may be cheaper and more widely available than care from a primary physician.
2.Reduced 911 requests and appropriate transports
Community paramedicine programs in several countries have shown up to 50 percent decreases in emergency department admissions in high-risk populations, such as the elderly and frail [2]. This reduction in 911 calls and emergency department visits leads to a significant reduction in the overall cost of healthcare, as preventative medicine is less costly than emergency care.
Some community paramedicine programs include the option for paramedics to transport patients to alternative destinations, such as sobering centers or behavioral health facilities. Although some believe that this may lead to the under-triaging of patients, alternative destinations may allow paramedics to transport patients to the most appropriate location for their given complaint, rather than funneling all patients through a potentially costly and crowded emergency department.
3.Follow up on high-risk patients without hospital readmission
Reducing hospital readmissions is a current priority for the healthcare system. Community paramedicine programs can help with lowering readmission rates by allowing trained paramedics to conduct follow-up visits with patients who have been recently discharged from the hospital. These visits may include a physical exam, monitoring of medication compliance or referral to a primary care physician if more serious complications are identified.
Numerous studies have shown that early follow-up is associated with lower readmission rates for patients with chronic illness such as heart failure, asthma and chronic obstructive pulmonary disease [3]. Community paramedicine programs that provide post-hospitalization follow-up may help keep the most critical patients safe at home and prevent hospital readmission.
Explore the potential benefits
The benefits of a community paramedicine program are limited only by the ability of an agency to imagine new and effective ways to use the paramedics on staff. In addition to the benefits for patients, fewer transports means fewer opportunities for provider injuries and the potential for greater job satisfaction through building relationships with patients and seeing improvements in their health.
By bringing the appropriate healthcare to the patient in an appropriate amount of time, community paramedicine may represent the future of out-of-hospital care in the United States.
References
Pearson K, Shaler G. Community Paramedicine Pilot Programs: Lessons from Maine. Journal Of Health & Human Services Administration [serial online]. Fall2017 2017;40(2):141-185. Available from: Academic Search Complete, Ipswich, MA. Accessed August 16, 2018.
Guy A. Community Paramedicine: A Preventive Adjunct to Traditional Primary Care. UBC Medical Journal [serial online]. September 2014;6(1):17-18. Available from: Academic Search Complete, Ipswich, MA. Accessed August 16, 2018.
Jackson C, Shahsahebi M, Wedlake T, DuBard CA. Timeliness of Outpatient Follow-up: An Evidence-Based Approach for Planning After Hospital Discharge. Annals of Family Medicine. 2015;13(2):115-122. doi:10.1370/afm.1753.
About the Author
Shawna Renga, AS, NREMT-P, currently works as an instructor for the United States Coast Guard Medical Support Services School in Petaluma, California, providing EMT training for helicopter rescue swimmers and Coast Guard corpsmen. She also works part-time for a private ambulance company and lives with her husband and two sons in Sausalito.

Request information from Stryker
Thank You!