SUV crashes into ambulance transporting patient in Mass., overturning rig
The Trinity EMS vehicle was operating with lights and siren through a green light intersection
---
By Leila Merrill
LOWELL, Mass. — The driver of an SUV is alleged to have run through a red light before crashing into an ambulance carrying a patient Wednesday night in Lowell, Mass., NBC10 Boston reported.
The ambulance overturned, but there were no serious injuries, Trinity EMS said.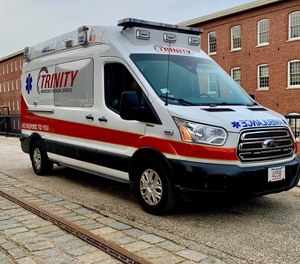 The ambulance was en route to Lowell General Hospital around 8:30 p.m. and had lights and siren on as the traffic light was green at the intersection where the crash happened.
Four people were in the rig, including the patient, who was transported to the hospital in another ambulance that was called to the scene.
Request product info from top EMS Ambulance Safety companies
Thank You!