Could it be sepsis? 3 ways EMS providers can improve their response to the No. 1 cause of death in U.S. hospitals
When it comes to treating sepsis, knowledge is power
---
Sponsored by Stryker
By Yoona Ha, EMS1 BrandFocus Staff
Sepsis, the body's overwhelming reaction to an infection, has been the leading cause of death in hospitals across the U.S. for years. It's estimated that one in three patients who die in a hospital have sepsis, and sepsis doesn't just cost lives – it also costs the U.S. more than $3.4 billion per year in hospital treatment expenses.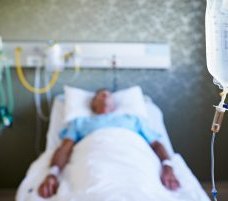 In an effort to cut down the number of lives impacted by sepsis, EMS providers have worked to become more vigilant at identifying it. Now, a growing number of sepsis experts like Rom Duckworth, an emergency services advocate and award-winning educator, say EMS providers can play an important role in curbing the number of sepsis-related deaths.
"EMS tends to be the first point of medical contact for many victims of sepsis, transporting more than 50% of patients arriving at the emergency department with severe sepsis," said Duckworth, who recently weighed in on sepsis treatment options in an "Inside EMS" podcast episode. "The sooner the better that we can identify patients with sepsis and septic shock – the sooner they will receive treatment, and the better their outcomes."
Here are three tips all EMS providers can learn from to get better results with sepsis care:
Start by reviewing your knowledge of sepsis
The National Association of EMS Educators recently published a position paper that highlighted the education gap on sepsis that exists among EMS staffers. This can be problematic, especially since more than half of patients with severe sepsis arrive at the hospital through an ambulance. EMS interventions can have a positive, direct impact on the outcomes of these patients.
As the position paper points out, the difficulty of defining and creating evidence-based consensus recommendations for prehospital recognition, assessment and treatment has led many EMS providers to rely on outdated, incorrect information on how to handle sepsis patients.
Being on top of the latest findings of prehospital sepsis care should be at the forefront of every EMS provider's education agenda today. While there have been increased efforts to educate prehospital providers recently, you might be one of the many EMS providers that need to check in on what you already know about sepsis. The good news is that you don't have to look far to find reliable resources (the Centers for Disease Control and Prevention's public awareness campaign is one example) to learn more about how prehospital providers can intervene.
These educational resources Duckworth recommends can help you revisit how much you know about sepsis:
Debunk your sepsis myths
You don't have to look far to find examples of how sepsis strikes just about anyone. Dr. Thomas Frieden, director of the CDC, shared his story of his son's close call with sepsis. Had Frieden not known what to look for, his son could have been one of the millions of American sepsis-related fatalities that year.
A CDC study from 2011 found that the rate of hospitalizations that listed sepsis as the primary reason have more than doubled from 2000 to 2009. Learning more about sepsis is an important first step to take, but taking the time to correct the misconceptions you've had is also another crucial step.
Common misconceptions about sepsis include:
Myth 1: Sepsis is an infection.
The facts: Sepsis is the body's response to an infection.
Myth 2: Sepsis starts most often in the hospital.
The facts: Up to 80 percent of sepsis cases begin in the community, outside of the hospital.
Myth 3: Infections are not serious.
The facts: Infections can become deadly, especially when they cause sepsis, which kills one in three of patients who die in a hospital.
Myth 4: Sepsis only happens to older adults.
The facts: While sepsis occurs most commonly among people over 65, infants under 12 months are also at risk. Individuals with weakened immune systems and even healthy adults can also develop sepsis if they are not treated properly.
Myth 5: There's a test available in hospitals that directly identifies sepsis.
The facts: This, Duckworth notes, is also a major misconception shared among some EMS providers. The reality is that at all levels of emergency care, the identification and treatment for sepsis begins with the same assessment skills that are available to EMTs and paramedics, so don't hold off on checking for sepsis until you get to the hospital.
Know the best practice models of sepsis education and when in doubt ask, 'Could it be sepsis?'
Duckworth says the two biggest things EMS providers can do to improve outcomes for sepsis patients is to go through a program like the Sepsis Alliance's First Responder Sepsis Video and Training Module.
"Take the opportunity to use this program to increase your knowledge, understanding and ability to identify sepsis, for others may miss it," said Duckworth.
The next recommendation Duckworth has for prehospital providers is to speak up if they suspect sepsis.
"For patients you do suspect might have sepsis, provide care up to the level of your practice, but also never stop being a patient advocate," said Duckworth. "Make sure that care continues beyond dropping the patient off at the hospital. You can let the hospital staff know that you suspect sepsis. Sometimes saving a life is as simple as saying, 'I suspect sepsis.'"
Other best practices to consider are:
Taking note of the patient's history. This can help you understand the risks the patient faces and his or her ability to compensate for shock.
Leveraging the latest sepsis criteria and assessment tools.
Creating and using a sepsis alert to help hospitals prepare for receiving a patient in septic shock.
Providing ongoing monitoring of patient progression and response to treatment.
The bottom line
What we know about sepsis is evolving on a daily basis, and like most conditions EMS providers are on the lookout for, there isn't one set of criteria of assessment and treatment that works for every EMS system.
"At the heart of all sepsis criteria is identifying an infection and assessing for altered vital signs," said Duckworth. "If your system has more specific numbers and criteria that work for you, use those, but always keep in mind that were looking for that infection and some kind of poor vitals."

Request information from Stryker
Thank You!