4 ways to better your agency by investing in your people
Support the medics on your team by promoting physical and mental health and encouraging professional development
---
The following is paid content sponsored by Stryker.
By Shawna Renga for EMS1 BrandFocus
Employment in EMS can often be competitive, and many employers struggle with employee retention and turnover. By investing in strategies that support the health and well-being of their employees, employers can attract high-quality applicants and increase employee retention.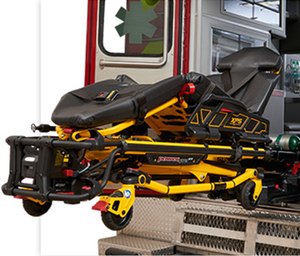 Here are a few steps that EMS agencies can take to better care for the EMS professionals they employ:
1. Invest in equipment that minimizes work-related injuries
Work-related injuries are common in EMS, with 1 in 4 EMS workers suffering a career-ending back injury within their first four years on the job. Back, knee and shoulder injuries are costly for both employers and providers.
According to the National Institute for Occupational Safety and Health, the majority of EMS worker injuries were sprains and strains of the upper and lower trunk caused by overexertion during patient movement.
Investing in equipment that makes lifting easier and safer for providers can improve employee retention, limit the costs associated with employee injuries and extend the working life of EMS professionals.
Power cots, like Stryker's Power-PRO XT, use a battery-powered hydraulic system to raise and lower the cot with minimal provider effort. Use of a powered cot can help significantly reduce spinal loading and exertion during patient transport, reducing the likelihood of provider injury.
Assisted loading systems like the Stryker Power-LOAD support the cot throughout the loading and unloading process and eliminate the need to steer the gurney during loading and unloading. This helps eliminate spinal loading during lifts and helps prevent the awkward body mechanics that can accompany steering a manual gurney while loading and unloading the cot.
2. Implement strategies to fight provider fatigue
Fatigue is another serious challenge for EMS workers. The atypical work schedule and high-stress environment encountered by EMS professionals put them at significant risk of poor sleep and fatigue.
Poor sleep and chronic fatigue can reduce attention and impair normal function of the central nervous system. EMS workers who are fatigued face reduced reaction time, impaired cognition and overall poor health.
There is remarkably little research available regarding fatigue among EMS workers. The National Association of State EMS Officials is currently gathering data with the hopes of presenting evidence-based recommendations regarding fatigue mitigation strategies. Strategies currently being implemented for evaluation include reducing shift length, mandatory rest times and designated "sleep rooms" where employees may rest if they are too fatigued to drive home after a shift.
By analyzing scheduling systems, staffing levels and fatigue policies, employers can better accommodate the need for rest among EMS workers. Employers who implement strategies to minimize provider fatigue are likely to see an improvement in provider performance over time, as well as a reduction in work-related injuries and patient care errors.
3. Support self-care and mental health
EMS professionals often find it challenging to balance work, life and family obligations. The emotional demands of working under stress day after day can take a toll on individuals, affecting quality of life and career longevity. By implementing programs that support and encourage self-care, employers create an environment where employees are healthy, happy and more likely to perform well on the job.
There are many simple, effective strategies for supporting self-care in the workplace. Something as simple as designating a quiet room as a "wellness space," stocked with music, yoga mats and videos, comfortable seating and aromatherapy devices, can provide employees with a space to unwind before or after a stressful day.
Collaborating with local mental health professionals to develop regular availability of one-on-one sessions at the worksite, free of cost and during their paid shift time, allows employees to proactively address compassion fatigue, depression and other mental health issues common among EMS workers.
Designating a "morale officer" on each shift, responsible for monitoring individuals' well-being and coordinating simple morale-boosting activities on a regular basis, empowers employees to take care of each other from day to day and creates a culture where self-care is emphasized as critical to a successful career.
4. Encourage professional development
Finally, employees who feel supported in advancing their careers are more likely to remain with a company than those who do not. By encouraging professional development and continuing education, employers develop a workforce that grows in experience and knowledge, decreasing turnover and improving the overall quality of care.
An employee who strives to further his or her knowledge and skills is an asset to their employer and to the health care community as a whole. Establishing tuition assistance programs for relevant college courses allows EMS professionals to further their education in the medical field. Employer-sponsored continuing education programs and regular training opportunities encourage a culture of learning and allow employees to advance their careers without losing pay or vacation time.
Each of these strategies can help your organization recruit, retain and support a team of top-notch EMS professionals. Caring for your employees enables them to provide better care for the patients your organization serves.
About the author
Shawna Renga, AS, NREMT-P, currently teaches at the University of San Francisco Emergency Medical Technician Program in San Francisco. Previously she worked as the assistant program director for the EMT program at the San Francisco Paramedic Association. Shawna also works as a paramedic for a private ambulance service in Marin County, California. 

Request information from Stryker
Thank You!