4 simple ways to improve ambulance safety during transport
Follow recent guidance on fasteners and restraints to minimize the potential for patient and provider injury while in transit
---
Sponsored by Stryker
By Shawna Renga for EMS1 BrandFocus
With thousands of ambulance collisions reported every year, protecting patients and providers during transport is essential. Recent guidelines for ambulances provide useful recommendations for safeguarding patients and medics in the event of a collision.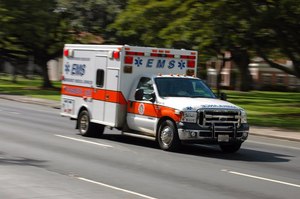 The Society of Automotive Engineers is a professional organization that develops best practices for the automotive, aerospace and commercial vehicle industries. In 2016, the SAE updated its guidelines regarding safety standards for ambulances, developed in conjunction with the National Institute for Occupational Safety and Health and the ambulance manufacturers division of the National Truck Equipment Association.
Regulation of ambulance safety varies significantly by state. Find out what standards, if any, are mandated in your state. There is no federally mandated adoption of any standard at all, although any agency that receives equipment funding through the Assistance to Firefighters Grant is required to comply with published SAE standards [1].
The SAE recommendations are designed to protect patients and providers during ambulance operation, and they cover cot securing systems, patient and provider restraints, and equipment mounting systems. With those guidelines in mind, here are four steps your agency can take to increase the safety of patients and providers during transport.
1. Install compliant cot mounting systems
Traditionally, cots are secured in the patient compartment via a standard "antler and rail" system that stabilizes the head of the cot with floor-mounted metal antlers and locks the foot of the cot into a side-mounted rail.
A NIOSH study conducted during the development of the SAE standards showed that during a front impact collision at a speed of 30 mph, the force was significant enough to cause the cot to break free of the antlers, sending even a properly restrained patient forward into the space often occupied by the jump seat in the patient compartment [2]. This presents an obvious hazard for any provider sitting in the rear-facing jump seat, as well as the patient being transported.
The new SAE standard requires that the cot be configured in such a fashion that forward movement of the cot and patient during a front-end collision is limited to 14 inches, rather than the previous 30 [3]. This means that traditional antler-and-rail systems will no longer be compliant should states adopt this SAE standard. 
Updating cot fastener systems to SAE-compliant equipment significantly increases the safety of patients and providers during transport. Compliant options are available for both manual and power cot systems. For example, the Stryker Performance-LOAD manual cot fastener system meets SAE standards for securing a cot during transport when used with the Power-PRO XT or manual Performance-PRO XT and X-Restraints. This system is easily upgraded to accommodate Stryker's Power-LOAD cot and fastening system, which is also SAE-compliant when used with Power-PRO XT and X-Restraints.
2. Upgrade to compliant patient securing systems
Traditional lap and shoulder belts do little to prevent forward movement of a patient during a head-on collision. SAE-compliant restraint systems typically involve cross-body seat belt restraints, similar to the restraints seen on Stryker's manual Performance-PRO XT and Power-PRO XT ambulance cots. These systems limit patient movement in all directions, protecting both patients and providers during collisions.
Patients should always be secured to the cot with all available seat belts, and providers should be familiar with the manufacturer recommendations regarding proper fit of cot seat belts to ensure the patient is as protected as possible in the event of a collision.
3. Consider surface delethalization in the patient compartment
The SAE standards also make recommendations for interior surface delethalization in the patient compartment. Oxygen cylinders, cardiac monitors and other large bags or equipment should be secured in such a way that they will not freely move during front and rear end, side or rollover collisions.
Surface delethalization also involves replacing current hard impact surfaces with padded materials or materials that collapse upon significant impact in order to reduce injuries to providers during collisions.
4. Install improved provider restraint systems
Research and development continues in the area of provider restraint in the patient compartment. Identifying and implementing an effective provider restraint system is a challenging task, as the restraint must simultaneously allow movement during patient care while providing security in the event of a collision.
A variety of systems exist, from bench seats that slide and swivel to retractable harness restraints that allow full movement around the patient compartment. While the SAE does not currently specify a specific provider restraint system, it does provide recommendations for the maximum allowable movement of a restrained provider in the patient compartment during an ambulance collision.
This is perhaps the most challenging safety measure to implement, as it may require significant modification of existing ambulances, and there is not a widely recognized best practice for improving provider restraint. In the meantime, providers should strive to use existing restraints at all times during patient transport.
Safety during transport is a big issue for EMS providers. Consider how the four strategies in this article can help your agency better secure the patient care compartment to help prevent injury during transport.
References
"Assistance Firefighter Grant." Fema.gov. Web. 13 Mar. 2016.
Castillo, Dawn, Thomas Bobick and Stephanie Pratt. "New Research and Findings from the NIOSH Division of Safety Research." ASSE Professional Development Conference and Exposition. American Society of Safety Engineers, 2013.
"Ambulance Patient Compartment Seating Integrity and Occupant Restraint." J3026. Web. 13 Mar. 2016.
About the author
Shawna Renga, AS, NREMT-P, currently teaches at the University of San Francisco Emergency Medical Technician Program in San Francisco. Previously she worked as the assistant program director for the EMT program at the San Francisco Paramedic Association. Shawna also works as a paramedic for a private ambulance service in Marin County, Calif. 

Request information from Stryker
Thank You!