Iowa paramedic-designed rig features low-frequency sirens, improved seatbelts
An ambulance built with input from the paramedics who will use it was put into service this week
---
By Laura French
JOHNSON COUNTY, Iowa — A new ambulance designed with input from the paramedics who will operate it was put into service this week at an Iowa county EMS.
Johnson County Ambulance Service (JCAS) introduced its specially-designed ambulance with low-frequency sirens, 360-degree cameras and a revamped workspace on Tuesday, according to KWWL.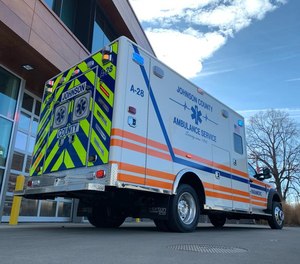 The JCAS Safety Committee, which included seven county paramedics, designed the rig over the last 10 months.
"It's huge," said committee member and Paramedic Alisia Meader, about being involved in the design process. "When staff that is not on ambulances ends up designing it, it's not as easy for us to do our jobs."
The new workspace includes vest-style seat belts, which Paramedic Jim Jurgensen, who was also on the committee, said are more comfortable and functional.
"Our older ambulance just has seat belts. So, most of the paramedics don't wear them because it's uncomfortable, you can't reach your equipment because you're just locked into that seat," he said. "These are more vest style so they're more comfortable. You can move to the right and left, even move a bit forward to stand up if we need to do patient care."
Low-frequency sirens will create vibrations that can be sensed by people who are hearing impaired or otherwise unable to hear an ambulance coming, such as someone wearing noise-canceling headphones, said JCAS Director Fiona Johnson.
The ambulance also includes 360-degree cameras to better maneuver through traffic and a new light system.