H&H Medical releases new DualSeal Occlusive Chest Dressing
---
H&H Medical's newest product adds to their line of hydrogel chest dressings with a portable two-pack.
WILLIAMSBURG, Va. — H&H Medical Corporation, a leader in emergency pre-hospital trauma products, announces the launch of its newest addition to its line of products, the DualSeal™ occlusive chest dressing pack.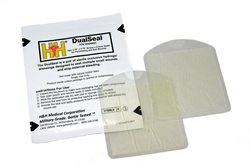 Having emergency trauma products when disaster strikes is crucial to saving lives. Making these products compact and easy to carry ensures more professionals will have the right gear to treat severe injuries at the right time. With ease-of-use and compact-carry in mind, the DualSeal occlusive chest dressing pack meets this challenge.
Made from the same hydrogel used by our market-leading Bolin Chest Seal™ and our Wound Seal Kit™, the DualSeal combines two 3.75" x 3.75" square hydrogel dressings in a small, more convenient package. The DualSeal pack provides the ability to cover two wounds without carrying a larger pouch.
With easy peel tabs, each DualSeal can be applied over an open wound or laceration or can be used to apply an occlusive seal over a penetrating chest injury. Custom foil packaging provides 5 years of sterile shelf life and is rugged enough to survive in extreme environments.
"Our focus in creating new products is to make them easy to use and easier to carry," said Paul Harder, President of H&H Medical. "The DualSeal pack means first responders now have a way to seal multiple chest wounds quickly without needing to carry a large bag."
More information about the DualSeal™ occlusive chest dressing pack can be found at https://buyhandh.com/products/dualseal-occlusive-dressing-two-pack.
About H&H Medical
Since 1982, H&H Medical Corporation has been dedicated to solving complex problems facing military and civilian responders. Recognized as a leading supplier of innovative pre-hospital trauma products, H&H Medical Corporation manufactures and distributes such products as the Bolin Chest Seal™, H-Bandage™ compression dressing, H&H Compressed Gauze, and Emergency Cricothyrotomy Kit. For more information, visit us at http://www.gohandh.com.