Agency's 'Cops Slap Here' sticker solves major EMS problem
Fleet manager hailed for solving a worsening problem of inadvertent, misplaced and damaging ambulance slaps
---
For those who haven't caught on yet … Happy April Fool's Day! Enjoy a chortle or a chuckle courtesy of the EMS1 Editorial Team. Read all the stories here.
RENO, Nev. — When Great Gulch Ambulance fleet manager unveiled a new sticker on the department's 17 ambulances, he had no idea the level of impact they'd have on everything from interagency communication to protection of property.
Great Gulch drivers had long been confused by how to determine when to pull out from an incident, relying entirely on law enforcement personnel to signal their departure. The problem was exacerbated by the fact that different agencies communicated in different manners.
Some cops were knocking the back door two times. State patrol officers were using a three finger back door tap. Still other cops, mostly from the sheriff's department, simply gave a light, suggestive brush over the back door.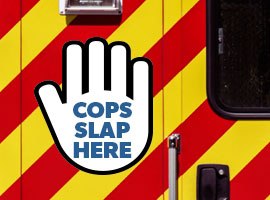 "Our drivers didn't know when to pull away," Allen said. "That cop confirmation of 'time to go' is entered into the MDT and reported as a quality measure to the ambulance authority every month."
The approach has also been a hazard to the ambulances themselves, which have been damaged by overly-enthusiastic knocks from cops riding adrenaline highs.
Allen enlisted a local graphic designer, his girlfriend's 15-year-old daughter, who has taken a digital design course at Great Gulch High School, to create the bumper sticker. After various iterations, she arrived on a design in comic sans lettering that said 'Cops Slap Here' – simple yet elegant.
Since their deployment, ambulance driver performance has improved greatly and insurance claims for damage to the rear area of ambulances have dropped significantly.  
"We applied the stickers to the body of the ambulance, just over an area of reinforced steel, to minimize risk of ambulance damage," Allen said.
The stickers have been particularly important with millennials on the police force, who needed explicit instructions on where to slap.
"Look, kids these days, you got to tell them exactly how and where to do things," McDuffy said. "We had some slapping the yellow stripes and others slapping the red stripes."
When asked for comment, twenty-something cop Kayden Patrick Miller-Smith glanced up from his smartphone, rolled his eyes and mumbled something unintelligible about a hashtag.
An unanticipated benefit is that the ambulance crews are no longer having to wash cop handprints off the windows after every call.
Other fleet managers are welcome to download, customize and apply the 'Cops Slap Here' stickers to their ambulance. Allen's only request is photos get the hashtag #CopSlap.