The 7 must-do steps for hurricane disaster preparation
Gathering necessities, preparing for the worst and being aware of the hazards in the aftermath are all part of hurricane disaster preparation
---
Hurricane disaster preparation is not something that can be done the day a hurricane makes land, or even a day or two before. If you live in an area that is prone to being ravaged by hurricanes, or are situated close enough for the outer hurricane bands to unleash a torrent of rain and the threat of flooding, you need to have your hurricane preparedness plans in place.
Luckily, there is a designated season when most hurricanes occur, and there is often several days' advance notice, during which you can finalize your hurricane disaster preparation plans.
Before a Hurricane is Forecasted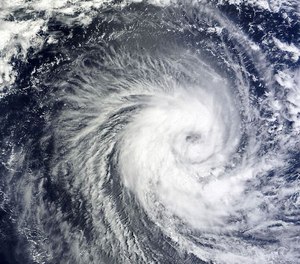 If you live in an area where hurricanes are a threat, you should have a plan in place even when the radar is clear.
1. Know the safest place in your house
Hurricanes bring high winds that can cause extensive damage to homes, forcing trees into the side of houses and breaking glass. If you plan to ride out the storm, designate a place inside your home as a safe zone, as far as possible from windows and glass.
Close storm shutters or board up windows
Keep your pets with you at all times
Have a battery-powered weather radio to listen to storm updates
2. Have a getaway plan
City officials will make a determination as to whether to advise citizens to shelter in place, or evacuate. If an evacuation order is issued, you should know what route you are going to take out of the city and where you will go.
Fill up your car with gas
Store bottled water and non-perishable food in the car in the event you are stuck in traffic
3. Safeguard important documents
Critical documents, such as marriage licenses, social security cards and birth certificates should be in a waterproof container that can be grabbed and carried in the event you need to evacuate as a part of your hurricane disaster preparation plans.
After a Hurricane Occurs
The risks don't end when the wind dies down and the waters recede. There are many hazards that can occur long after the hurricane disappears from the radar.
1. Understand the risks floodwaters bring
Flooding is a serious hazard that can damage your home and belongings. It can also contaminate drinking water due to flood waters containing sewage, as well as increase the probability of mosquito and pest infestations.
2. Watch out for mold
Even after the flood waters have receded, there is a heightened risk of mold from the water damage, that can cause health problems when it goes untreated. Hurricane disaster preparation plans should include a post-hurricane inspection of structures subjected to flood waters.
3. Thoroughly check for damage
Hurricanes can cause damage in a number of ways, from heavy rains and flooding to high winds. After the storm has passed, check the outside of your house and roof for missing shingles, broken railings or other hazards. Inside your home, check for roof leaks, cracked or damaged window frames and damage to electric wiring.
4. Expect possible emotional pain
The traumatizing nature of hurricanes, from the fear they bring to the property damage they inflict, can take an emotional toll on victims, whether they had to flee their home or not. It's important to seek medical attention if you have trouble recovering emotionally from the aftermath of a hurricane.
For more hurricane safety tips, access this fact sheet from the American Medical Response website.
This article, originally published on August 29, 2017, has been updated