Stars of Life program honors EMS professionals
The American Ambulance Association is seeking nominations for the 2016 Stars of Life class and celebratory events in Washington
---
MCLEAN, Va. — The American Ambulance Association's National Stars of Life Program honors the dedication of those EMS professionals who stand out and represent excellence in every area of the industry.
The nominating process for the 2016 Stars of Life class is now open.
"At the AAA's Stars of Life, we pay tribute to those EMS professionals who make a difference in the lives of the patients and communities they serve," said Mike Hall of Nature Coast EMS and AAA president. "Each Star is a vital part of our Nation's public safety and public health network."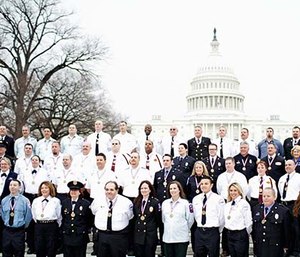 The act of nominating creates a Star and those people will be recognized by the American Ambulance Association in a series of celebratory and educational events in Washington.
The American Ambulance Association's 2016 Stars of Life program will be held at the Washington Court Hotel, Washington, April 11-13, 2016.
The American Ambulance Association's Stars of Life Program is a recognition program to celebrate and reward EMS providers for their service.
Any EMS organization employee who epitomizes the spirit and commitment of the nation's top ambulance service professionals is an appropriate selection (living or deceased). Paramedics, EMTs, dispatchers, customer service representatives or other operations personnel are potential nominees for the Stars of Life award.
To nominate an individual or group from your service, visit the 2016 Stars of Life. Services with limited funding may apply for assistance through the AAA's Travel Grant Program.