DOT Secretary Ray LaHood appoints Chief Patricia Dukes to National EMS Advisory Council
Chief Dukes also serves as member of Board of Directors for International Association of Emergency Medical Service Chiefs
---
The U.S. Secretary of Transportation Ray LaHood has appointed Honolulu EMS Chief Patricia Dukes to a two (2) year term on the National EMS Advisory Council (NEMSAC). Chief Dukes also serves as member of the Board of Directors for the International Association of Emergency Medical Service Chiefs (IAEMSC).
NEMSAC serves as an advisory body to the Department of Transportation and is comprised of appointees from across emergency medical services and its consumers. This advisory body provides advice and recommendations regarding EMS activities to the U.S. Department of Transportation and the Federal Interagency Committee on EMS (FICEMS).
IAEMSC President William Sugiyama noted: "Chief Dukes is an exemplary professional who has effectively represented Honolulu Emergency Medical Services and our discipline at-large. Patty continues to demonstrate incredible dedication to the profession, while concurrently mentoring those who seek her guidance. Her vision for a world class EMS response system has contributed greatly to EMS response innovation. The IAEMSC is extremely proud of her latest recognition as a true professional, an IAEMSC officer, and a founding member."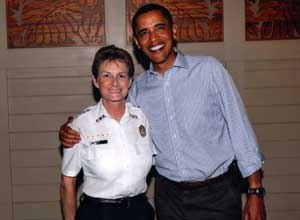 Chief Dukes appointment runs from June 13, 2012 through 2014.
Additional information about the IAEMSC can be found at: www.IAEMSC.org.