Code Green Campaign receives injury prevention award
Their mission is preventing suicide and preventing providers from leaving the field due to the trauma they've experienced
---
Spokane, Wash. — The Code Green Campaign has been awarded the 2016 Nicholas Rosecrans Award for Excellence in Injury Prevention.
The award is presented by EPIC Medics in conjunction with JEMS, The RedFlash Group, the NHTSA's office of EMS and Laerdal Medical in recognition of emergency responders who demonstrate leadership, commitment and innovation in preventing injuries.
The Code Green Campaign works toward preventing suicides in first responders by raising awareness and providing education about the high rates of PTSD and suicide in the field. Since Code Green was founded in 2014, they have collected nearly 400 stories from first responders about their personal experiences with stress and trauma, have created a database of first responder-friendly mental health resources and have distributed over 22,000 resource cards, in addition to several other projects they are engaged in.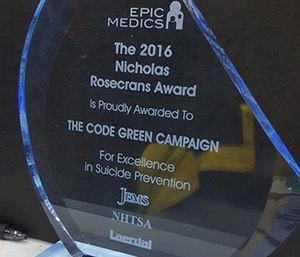 "We are honored to receive the award and humbled that after only being around for two years we are seen as being as worthy of the award as the previous winners," Anna Marie Farina, president of The Code Green Campaign, said. "Code Green's mission is quite a bit different than the winners in years past, but our ultimate goal is still prevention. Preventing suicide and preventing providers from leaving the field due to the trauma they've experienced."
In 1996, two-year old Nicholas Rosecrans wandered away from his daycare and drowned in an unsecured pool. After his death, the paramedics who treated Nicholas reached out to his mother and developed a close friendship with her. The paramedics later created EPIC Medics with the goal of integrating injury prevention and EMS. They created the Nicholas Rosecrans Award in 2002, which is presented by EPIC medics and Lynn Rosecrans-Artz at the EMS Today conference.
You can learn more about The Code Green Campaign here or by emailing admin@codegreencampaign.org.